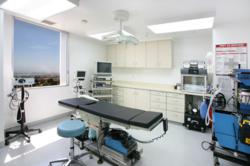 Culver City, CA (PRWEB) October 21, 2011
Liposuction performed by this Culver City doctor is no longer called liposuction. Instead, this procedure is referred to liposculpture. Liposculpture involves circumferential sculpting. This means that fat deposits are withdrawn and removed from various places and not just from previous bulges. The reason Dr. George Boris has changed the terminology of liposuction to liposculpture is due to the outcomes patients have expected in the past and the outcomes they can truly expect.
Liposuction is a procedure designed to improve one's body contour. However, many patients believe this procedure is a weight loss procedure. In reality, patients who are closest to their baseline weight tend to see the best results. The reason for this is that liposuction can remove small bulges from other areas that when removed will provide a more even contour to the body. Any weight gain after the procedure will affect the surgical outcome.
Boris Cosmetic liposuction patients often expect the appearance of the skin to change. The look of the skin will not be altered. Therefore, skin that is wrinkled, dimpled, loose, or that has depressions will continue to have these appearances after liposuction is performed. Patients with firmer taught skin tend to see the best results of liposuction. The areas on the body that tend to demonstrate the best results are the saddle bag areas and the inner and outer thigh.
Dr. George Boris, a Culver City Cosmetic surgeon, has the experience and skills to inform patients of the kinds of results one can expect from liposuction procedures. Photographs of a patient will be taken as well as a thorough physical evaluation will be performed. Dr. George Boris will discuss with each patient the objective of the surgical procedure and results one expects. Dr. Boris will advise the patient if these expectations are realistic and if liposuction will improve appearance. A great deal of time is taken with each patient to assist everyone in obtaining the desired results.
Dr. George Boris, will provide information regarding the risks and potential complications of liposuction procedures. This procedure is one of the most common operations performed in plastic surgery.
Dr. George Boris provides new information to Los Angeles patients regarding liposuction procedures. The majority of this new information includes clarifying the results a patient may actually experience.
Contact:
Dr. George Boris
Boris Cosmetic
9700 Venice Blvd
Culver City, CA 90232
Phone:310.204.5822
http://www.boriscosmetic.com
###