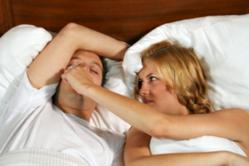 ...home sleep study interpretations efficiently and accurately...
Miami, FL (PRWEB) October 20, 2011
According to the National Institute of Neurological Disorders and Strokes, Sleep Apnea remains a growing health concern with an estimated 18 million Americans suffering. Sleep Group Solutions offers home sleep testing (HST) devices (and interpretation), which have become a popular way to allow the sufferer to get tested in the privacy of their own home, no over night stay in a sleep lab needed. The results are easily uploaded by the physician/practitioner to InterpStudies.com for a quick diagnosis of OSA (Obstructive Sleep Apnea).
Historically, an overnight sleep study in a sleep lab was the only way to obtain a diagnosis of OSA (Obstructive Sleep Apnea). Recent advancements in technology has made its way directly into the consumers hands, creating an increase in sleep apnea diagnosis. Mary Convey, a US Key Accounts and Distributor Manager for Embla (the largest company in the world to focus solely on sleep diagnostics) has noticed a spike in HST. "We have seen our vast customer base of Sleep Labs adding home sleep testing to their service lines as a means to treat more patients and keep up with the market demands." To meet the changing needs of patients, 35% of sleep labs offer home sleep testing as options. In turn, patients now have more options to get diagnosed and treatment.
Now, home sleep test device data is easily uploaded to a secure cloud for fast and convenient interpretation by a board certified sleep doctor. InterpStudies.com allows the physician and/or practitioner to upload an overnight sleep study, sending it directly to a board certified sleep doctor in their state for interpreting and diagnosis. From there, a diagnosis of Oral Appliance Therapy, CPAP Therapy or other methods are recommended. Dr. Gregory Carnevale, a sleep doctor in New York, and part creator of InterpStudies.com told the Sleep Magazine, "InterpStudies, was born out of this idea to provide home sleep study interpretations efficiently and accurately using the most modern technology, and competitive price." Home sleep testing devices are convenient and cost effective, especially if you don't live near a sleep lab for testing purposes.
About Interpstudies.com
InterpStudies is a web-based cloud company that transfers ("uploads") home sleep study data provided to our team of "Analyzers" who are board certified sleep physicians. Our Analyzers will send you a report within 5 business days providing you with the most current American Academy of Sleep Medicine guidelines regarding diagnosis and treatment options, including CPAP, oral appliances and other treatments. Interpstudies.com work most often with Remlogic software and Embletta home sleep study equipment. Additional devices can be used including: MediByte Jr, Easy Ambulatory PSG, Somte, Watch-PAT 200, Braebon and Knox 3 (Prices and acceptance of new clients will change from time to time). The InterpStudy team will help with all phases of the process including set-up and uploading. Most of this assistance can be done remotely.
About Sleep Group Solution
Sleep Group Solutions is an airway diagnostic technology company serving the needs of physicians and dentists interested in screening, diagnosing and treating sleep apnea and other upper airway disorders.  Sleep Group Solutions offers the latest screening and diagnostic equipment solutions for patients with allergy, sinus congestion, rhinitis, deviated septum, nasal polyps, snoring and sleep apnea.  SGS offers the most comprehensive dental sleep medicine CE seminars in the industry focused on teaching dentists the protocols needed to make the treatment of snoring and sleep apnea part of their practice.  SGS offers sleep study interpretation, oral appliances (Norad Boil & Bite, Respire), online dental directory 1800SleepLab.com and online marketing for CPAP Alternatives, SleepTest.com. SGS is the manufacturer of the Eccovision Systems Rhinometer and Pharyngometer.
# # #