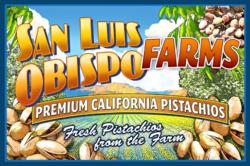 We are committed to providing the tastiest, freshest, most nutritious nuts available.
San Luis Obispo, CA (PRWEB) October 20, 2011
Pistachio nut grower, Tim Melchior, adds a new distribution channel that combines his passion for growing pistachios and his desire to provide the best possible nuts to his customers. Tim has just launched an online roadside stand offering premium pistachio nuts from his San Luis Obispo Farm to pistachio nut lovers worldwide.
The new site takes the visitor back in time to a 1950's style setting at the edge of the San Luis Obispo pistachio nut farm. Customers can almost feel the warm California breeze as they make selections from a wide assortment of plump, fresh-picked nuts including unsalted or lightly salted, shelled or unshelled, and/or flavored with Zesty Lemon, Onion & Garlic, Bar-B-Q, Jalapeño, or Chile & Lime. There is a savory sampler for those who can't make up their minds.
"We are committed to providing the tastiest, freshest, most nutritious nuts available," says Tim. "We do this by only selling nuts from the most recent harvest and sending them directly to our customers."
The opening of San Luis Obispo's roadside stand comes at an opportune time when recent research has shown that pistachio nuts are remarkably nutritious. Studies show that the little green nuts contain a wide variety of vitamins and minerals, and are an excellent source of protein and fiber as well. Far from the common misconception that pistachio nuts are fattening, several recent studies have shown that cholesterol-free pistachios can actually encourage weight loss.
The virtual roadside stand is already crowded with visitors such as Moms searching for healthy snacks for their children, dieters looking for a snack that helps satisfy their hunger, those looking for help in reducing cholesterol and improving heart health, or people simply looking for a unique gift. The stand also offers up-to-date information on pistachio nuts and harvest conditions, and free pistachio recipes for cooks. A video of how these nuts are harvested can be seen on YouTube
Pistachio nut grower, Tim Melchior, and his family have been growing pistachios on the San Luis Obispo Farm in California for over thirty years. The farm is ideally suited for this crop due to soil, weather and temperature conditions that allow optimum growth of big, healthy, pistachio nut trees. These trees produce large, tasty, nutritious nuts known as "California Blondes". Pistachio nuts come in several sizes and the farm has a firm policy to select only the largest, plumpest nuts from the latest harvest for sale on the virtual roadside stand.
###