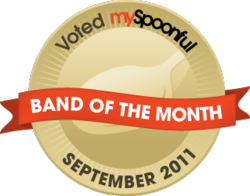 This is a great example of an emerging band (out of San Francisco) getting national exposure through mySpoonful.com.
San Francisco, CA and Austin, TX (PRWEB) October 20, 2011
mySpoonful announced today Mister Loveless is the winner of the mySpoonful "Band of the Month" poll. Three times a week, mySpoonful handpicks a single new artist that music fans should know about, and includes a free MP3 for listening or download in their weekly e-newsletters. Every month, the mySpoonful audience can now vote on their favorite band that month, and the band with the most votes is announced the winner. Mister Loveless takes first place in September '11, and a new poll is now underway for October '11. The poll begins the first of every month and runs through the 15th of the following month. The winner is announced the third week of the following month.
Mister Loveless is a 4-piece rock band hailing from Oakland, CA. Founded in 2003 by high school friends, Rob Miller and Charlie Koliha, the band grew from an angular, post-punk act to a sonic territory, as they enlisted long time friend, Sean Gaffney and devoted fan, Nick Clark. Mister Loveless are set to release their sophomore studio album, entitled Grow Up, in 2012. Duane M. Ramos produced, engineered and mixed the album including the lead single "Nineties Children". Mister Loveless will exclusively debut the music video for "Nineties Children" exclusively to the mySpoonful network today, Thursday, October 20, 2011. Go to http://www.mySpoonful.com to view it.
SF Weekly hails, "[Mister Loveless] puts a lot into their sigh-heavy, Smiths-indebted post-grunge – years of hunting down the right band members, obsessive song writing, coordinated outfits – and the finished product that is promising (if restrained), crisp (if predictable), and hard not to like (unless you hate bands that sound like they know what they are doing)."
Mister Loveless have the ability to move the listener into a frenzy and celebration of youth and disorder, then, within moments, take them to the brink of solemn tears. It is this double nature, one of joy and regret, that leads spectators to put their drinks down and approach the stage at their live shows to get an up-close look at one of the Bay Area's hottest emerging bands.
As winner of the "mySpoonful Band of the Month" poll, Mister Loveless receives an additional Featured Artist email announcing them as the winner, promotional tools including a 1-year Pro ShareSquare account and a 6-month Supersonic subscription to Sonicbids, and an online plaque highlighting them as the people's choice for that specific month.
Amos Schwartzfarb, mySpoonful cofounder, comments, "After another month of phenomenal artists competing for the Band of the Month, we've had an exceptional voting turnout on mySpoonful.com from our fans! This month, it's really exciting to be able to share the exclusive debut of the newest video from our winning band, Mister Loveless. We are thrilled to not only help bands get much broader exposure through this poll but also to share back with our fans exclusive content! This is a great example of an emerging band (out of San Francisco) getting national exposure through mySpoonful.com."
About mySpoonful
mySpoonful features independent music from a variety of genres, including rock, pop, hip-hop, electronic, folk and more, with a focus on new artists that are outside the mainstream. mySpoonful's team of insiders, curators and tastemakers does all of the work of finding new music, sifting through thousands of bands and musicians and carefully selecting featured artists.
Each spoonful features an up-and-coming artist and contains a free song download, an artist photo and an original bio from mySpoonful's team of writers. In addition, if a fan wants to learn more, each spoonful provides a video, links to other bands readers may like, live performance listings and a link to buy more music.
The mySpoonful founding team includes music and Internet veterans including Dan Cohen, Stacy Horne, and Amos Schwartzfarb. The team's impressive track record and music and digital media credentials includes creating and leading several successful startups, work at Yahoo, Google and Business.com, and producing and vetting talent for premier independent music events and festivals such as CMJ Music Marathon, Noise Pop, and the Treasure Island Music Festival.
For more information, please visit http://mySpoonful.com.
Additional Prizes for the mySpoonful "Band of the Month" Contest are provided by:
Sonicbids is the leading matchmaking site for emerging bands and music promoters, with a mission to empower the Artistic Middle Class by helping bands find, apply for, and get gigs. Since its launch in 2001, Sonicbids has become the de-facto standard for submitting music to events and opportunities around the globe, including mySpoonful. In 2010, bands and artists using Sonicbids booked close to 80,000 "gigs" through the site.
ShareSquare focuses on bridging the divide between offline and online by using smartphones as the catalyst to connect people's passions with immediate calls to action and engagement. ShareSquare's solutions leverage QR Codes, HTML-5, and the native browser on a mobile device to deliver a compelling social, local, and mobile app experience from any smartphone.
###