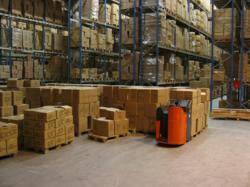 This new partnership means that North and South American retailers now have access to the complete inventory of International Greetings through the OCsuplus.com website
Fullerton, CA (PRWEB) October 20, 2011
OCsurplus.com, a growing online distributor of wholesale general merchandise, has announced that they are partnering up with International Greetings USA beginning on October first of this year. International Greetings USA is one of the world's leading designers, manufacturers and distributers of greeting cards, stationery, gift wrap, gift bags, Christmas crackers and accessories.
This new partnership means that North and South American retailers now have access to the complete inventory of International Greetings through the OCsuplus.com website. This new inventory includes popular stationery and greeting card brands such as PaperCraft, Pepper Pot, Giftmaker, Hoomark, Gifted, Copywrite Designs and more.
With this notable expansion in OCsurplus.com's inventory, retailers such as Amazon sellers, eBay sellers, gift shops, convenience stores, dollar stores, gas stations, liquor stores, drop shippers, online retailers, car washes, and party supplies stores now have access to a larger variety of holiday cards, seasonal cards, birthday cards and every day cards. According to the Greeting Card Association, approximately 7 billion greeting cards are purchased in America each year, resulting in over $7.5 billion in annual retail sales of seasonal and everyday greeting cards. That being said, it seems that there is money to be made in the greeting card business, and OCsurplus.com is excited to offer their customers a chance to cash in.
OCsurplus.com is a leading business-to-business supplier of wholesale closeouts of the most in demand brands, such as Crayola, Panasonic, Scotch, Paper Mate, Sony, Duracell, Gillette, and many more. Furthermore, they are a leading business-to-business supplier of wholesale general merchandise such as school supplies, office supplies, toys, gift bags, greeting cards, household appliances, seasonal items, cell phone accessories, among countless other fast selling merchandise.
###