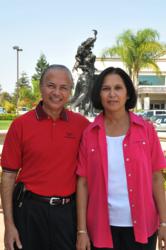 Bakersfield Physician Couple has been dedicated to giving for their cancer patients for decades. They have donated their time and money to help create a world with more birthdays.
Bakersfield, CA (PRWEB) October 21, 2011
The California Division of the American Cancer Society will present Dr. Ravi Patel, president of the Comprehensive Blood and Cancer Center (CBCC) and Dr. Naina Patel with one of its highest honors, the Philanthropic Award. American Cancer Society will honor the Bakersfield couple for their decades of service and support at the 65th Annual California Division Board of Directors meeting in Los Angeles. The Philanthropic Award will be presented to Drs. Ravi and Naian Patel during a luncheon at the LAX Marriott at Noon on Friday, October 28.
Over the years, Drs. Ravi and Naina Patel, their Family, and CBCC have donated over $850,000 to the American Cancer Society. Funding from the Patel Foundation, which includes Family and CBCC, has supported various American Cancer Society fundraisers including the record-breaking Relay For Life in Bakersfield, as well as other Relay For Life events in nearby communities. CBCC has also established a foundation which provides transportation, housing and financial assistance to local cancer patients and their families.
In addition, the Patel Foundation has sponsored a Pioneer-level global grant to the American Cancer Society's India Cancer Initiative which provides training and culturally sensitive, multilingual educational materials to primary care physicians in Gujarat, India for cervical cancer screening consultations for women aged 30 to 65 years.
The Philanthropic Award is presented annually to an individual or family foundation that has given a minimum of $500,000 to strengthen the American Cancer Society's goal of saving lives and creating more birthdays by helping people stay well, helping people get well, by finding cures, and by fighting back.
For details about the Society's free cancer information, programs, services and volunteer opportunities, visit cancer.org or call 1.800.227.2345.
###