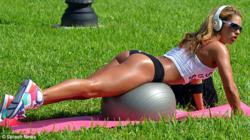 These paparazzi photos of JNL have now solidified JNL as having one of the world's most famous and highly sought after butts, which thus have skyrocketed her www.JNLClothing.com sales.
Miami, Florida (PRWEB) October 21, 2011
Jennifer Nicole Lee is wearing too much fabric. Or at least that's what her shirt and boy shorts read. "Im Wearing Too Much Fabric" and "Glutes that salute" are both trademark JNL-isms that are emblazoned on her now world famous booty. JNL was spotted by a celebrity paparazzi photographer as she enjoyed a day on the celebrity studded Miami Beach. Unbeknownst to her, she was being photographed by a super skilled paparazzi photographer, catching her donning her own boy shorts and t-shirts from the http://www.JNLClothing.com line. Much more than a "fitness model" or bikini babe, JNL is a super model turned mega-millionaire mogul. She is the creative branding brain, marketing maverick, and designer behind her urban street wear and sporty lifestyle line
The funny thing about these photos is that JNL, known for her billion dollar banging body, was actually covered up a bit, and not even prancing around in a tiny thong or skimpy string bikini. Jennifer looked sophisticated, stylish, clean and very well put together, as her tight, toned, and tanned body was full focus. Or was it her derriere that held full court? Known to be the "queen of fitness models" Jennifer Nicole Lee has made millions off of her internationally known body, face, smile, hair, and now booty.
Many other well-known women work their assets, flaunting them in the public eye. Some examples are Jennifer Lopez, Beyoncé, Shakira, and Kim Kardashian. Jennifer Nicole Lee has now joined the famous ranks of women who are photographed just for their beauty, and their booty's.
When asked for her comment on these photos JNL graciously sent this comment: "I'm proud to be a physically fit, shapely and curvy woman. Many offers have come onto my office table now since these photos were taken. Maybe I'll write a butt book, or give fitness seminars on how to get a bigger butt. I'm just flattered. And our JNL Clothing Line sales sky rocketed with no sign of tapering off. So I applaud all women with big butts and strong bodies."
Now with Jennifer Nicole Lee's body being wanted on the paparazzi's radar, there may be more candid shots of JNL to come, possibly one of the world's sexiest women, and now most famous butts.
###