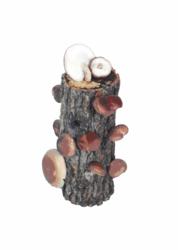 Soak it in ice water. The 'shock' fools the log into thinking it's the fall rainy season and says, 'time to bloom.' In 6-10 days you can harvest. They'll grow shiitakes every two months for about four years.
Perkins, Oklahoma (PRWEB) October 25, 2011
Lost Creek Mushroom Farm, producing grow-your-own shiitake log kits since 1993, announce that this fall sales are climbing. During the fall season, sales can quadruple.
According to Dr. Sandra Williams, owner of Lost Creek Mushroom Farm, sales start climbing about the time of the equinox." "Even if we humans aren't aware of it, our internal clocks know, Now Is The Time."
"Nature sends signals to humans just as it does to all other species; except humans aren't as responsive and sensitive as leaves turning or squirrels stockpiling acorns," according to Dr. Sandra Williams of Lost Creek Mushroom Farm. "Fall is the natural mushroom season, and mushrooms can help us prepare for winter. Our bodies need and ask for the nutrients, the blood strengthening, immune strengthening, and brain stimulation of mushrooms."
Overall, shiitake sales are increasing. Nationally, sales of specialty mushrooms such as shiitakes increased 27% in 2009-2010, according to the USDA National Agricultural Statistics Service, more growth than any other species.
"This year we have had more inquiries from retail stores than in the two previous years combined. Record-breaking holiday sales last December were a clear indicator that more people want more mushrooms."
Dr. Williams said, "We're trending toward eating more 'functional foods,' and mushrooms are considered a superfood." Mushroom Council statistics show that most people are unaware of the Vitamin D and anti-oxidant properties of mushrooms. Shiitakes, especially log-grown shiitakes, are high in protein and low in fat. They stimulate the immune system and are used nutritionally to fight viruses, high cholesterol, chronic fatigue syndrome, and more. They're recommended in diets for preventing and treating cancer."
"Shiitakes are a natural mood elevator. They can stimulate feelings of joy and well-being and they can ease sadness and grief. They are truly a superfood for the cold, dark winter months."
Shiitakes are grown by two methods, on sterilized sawdust and on actual hardwood logs, such as oak. Sandra and her husband Doug are log growers. According to Doug, "Sterilization kills vital nutrients that the mushrooms need. When they grow on logs, they are stronger and more potent; they can better fulfill their roles and sustain us as food and medicine."
Very few markets carry log-grown shiitakes. "The best way to get them," Doug suggested, "is to grow them on your own logs in your own home or garden." Logs will produce every two months for about four years. Shiitake logs can live indoors like plants year-round and will thrive outdoors under shade in the fall and spring rainy seasons.
Lost Creek Mushroom Farm shiitake kits come in a range of sizes. Prices include shipping and handling. The 6" 'Shroomie sells for $18 and the popular 10" single log is $29.95. The best bargain is the Ma & Pa Kit, at $49.95, with two 9-10" logs. Doug explained, "Growing two logs, you can harvest every month by alternating the producing log."
The 10" log and Ma & Pa kits are fully guaranteed to grow shiitakes. The 'Shroomie is the same quality as the larger logs, but is not guaranteed because of shipping costs. Each kit comes with full instructions and recipes.
Mushroom log kits make unique, long-lasting holiday gifts.
Order online at http://www.shiitakemushroomlog.com. Call for a free brochure or order by phone at 1-800-792-0053. Mail orders: Lost Creek Mushroom Farm, PO Box 520, Perkins, OK 74059. Log kits are available on Amazon.com at slightly higher prices. To guarantee timely holiday gift delivery, phone and website orders are recommended.
Lost Creek Mushroom Farm donates a portion of sales to its Mushrooms in Ghana Project, helping expand production for Ghanaian mushroom farmers.
###