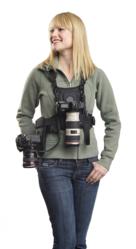 "A truly innovative carry system with all kinds of uses for all kinds of photographers!" Michael Becker – Hollywood Entertainment Photographer
(PRWEB) October 21, 2011
Cotton Carrier Camera System is pleased to announce a revolutionary way to carry one or two cameras of any size and weight. All the strain and pain placed on a photographer's neck and shoulder is completely eliminated with the camera "locked" securely into place, but instantly available.
Perfect for all kinds of photographers, the Cotton Carrier will appeal to news photographers, sports photographers, wedding photographers and "active" shooters including mountain bikers, mountain climbers and snow boarders.
Travel photographers who are typically out and about all day benefit from the freedom from any fatigue created across the neck and shoulders. Whether novice or pro, young or old, male or female, this broad spectrum of customers have enjoyed the Cotton Carrier's ability to allow them to have both hands free, with no swinging camera dangling off their neck.
"Attending photography shows, I am always thrilled to put a Cotton Carrier onto a person and watch their face light up as I place my heavy Canon 5D Mark II and Canon 100 - 400 mm lens onto the Camera Vest," says Grant Vetters, Advertising & Marketing Director at Cotton Carrier. "I can't feel the weight of the camera," is the common reaction from most people.
With most cameras and lenses weighing 4 to 12 pounds, this cumbersome weight is evenly distributed around the torso unnoticeably, not the neck. The weight distribution is so effective that many photographers with neck or back injuries have been able to comfortably pursue their passion for photography.
Cotton Carrier's patented mounting system utilizes a hard anodized aluminum hub that attaches to the bottom of your camera. By simply sliding the camera into the receptacle on the Camera Vest or the Carry-Lite Belt system, the camera is "locked" into place for secure camera carrying.
A Universal Tripod Adapter Plate is available which enables photographers to use their Arca-Swiss compatible (Kirk, RRS, Wimberly) or Manfrotto tripods, allowing them to move straight from the Cotton Carrier to their tripod in an instant.
Cotton Carrier Camera Systems can be purchased through their website and throughout many camera stores across North America.
###