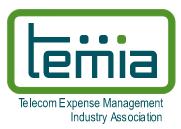 "The rise in unexpected wireless charges has become one of the biggest concerns facing our industry today, so we applaud the FCC, Consumers Union and CTIA in their efforts to protect users against this mounting issue," said Xigo CEO, David Spofford
Naperville, IL (PRWEB) October 20, 2011
The Telecom Expense Management Industry Association (TEMIA), the authoritative voice for Telecom Expense Management (TEM) and Wireless Expense Management (WEM) and Mobile Device Management (MDM) Solutions Providers, asked its members to respond to the "Wireless Consumer Usage Notification Guidelines," from the Federal Communications Commission (FCC), CTIA and Consumers Union.
On Monday, October 17 the FCC Chairman Julius Genachowski, the Consumers Union Paul Desai and the CTIA, wireless trade association, President and CEO Steve Largent announced a plan to help users avoid unexpected charges for wireless bills. Under the CTIA's "Wireless Consumer Usage Notification Guidelines," carriers will send alerts to customers when they near or reach monthly limits on voice, text, data services and international roaming charges. By October 17, 2012, participating carriers will provide customers with at least two out of the four notifications for data, voice, text and international roaming and by April 17, 2013, they will provide all of the alerts.
TEMIA's Opinion
"The rise in unexpected wireless charges has become one of the biggest concerns facing our industry today, so we applaud the FCC, Consumers Union and CTIA in their efforts to protect users against this mounting issue," said Xigo CEO, David Spofford. "This plan greatly supports our efforts in helping our customers avoid bill shock and more efficiently manage and minimize their mobile expenses."
"Proactive notifications are a good first step to avoid unexpected charges or bill shock for the wireless services of the consumer," said David C. Perdue, Chief Executive Officer for Asentinel. "For the enterprise, maximum expense savings comes from telecom expense management solutions built on powerful software technology."
Some also suggest that bill shock occurs when subscribers compare quotes for wireless service to the larger bills that they receive due to extra charges for Universal Connectivity Fee or Universal Service Fund (USF), Taxes, Federal Excise surcharges, Federal regulatory recovery fees and other government levies. TEMIA members can help scrutinize the accuracy of bills including these hidden charges, and they can provide effective expense management strategies.
Beginning on October 17, 2012 wireless carriers will be offering alerts on usage. These proactive carrier notifications are a good first step to avoid unexpected charges or bill shock for wireless services. However, as noted by Gregg Smith, CEO of Proximiti Communications and a TEMIA member: "There is no need to wait. Comprehensive, real-time management is a reality today with cloud-based applications that run on mobile devices." The benefits of such an approach are many for preventing carrier roaming charges and overages, employee misuse, and the risks and costs associated with lost or stolen devices and unsafe driving related litigation and insurance costs.
Smith also notes that: "Real-time mobility applications, when integrated with billing, CRM, and other business processes, improve the accuracy and completeness of information and also enhance the productivity and value of key employees."
The best way to avoid bill shocks and unnecessary wasteful spending for organizations that pay bills on behalf of their employees is to follow TEM and WEM best practices.
These include:

establishing policies that limit unnecessary use of mobile services
use of TEM/WEM portals to manage procurement of wireless devices and service plans
optimization of service plans through real-time and historical multi-variable analysis to ensure that employees have the right plans
sourcing and contract negotiation to secure more cost-effective plans
automaton of invoice processing to gain processing efficiencies and avoid late payment penalties for corporate and employee paid devices
validation of charges on bills through TEM/WEM systems
better accountability and visibility through charge-back reporting of usage and mobile expenses
proactive measures using real-time management software and other approaches to prevent international roaming, high expense calls (such as 411), and other types of misuse and abuse.
"Anything that helps customers better control their communications costs is a positive, but this is just one small part of the solution to the challenges of trying to reign in telecom expenses. Organizations should not rely solely on carriers to solve this problem. A complete Telecom Expense Management program will audit and optimize for maximum savings. Contract negotiation will secure better plans this can help avoid cheaper "limited" plans that cause overages in the first place. Developing and communicating corporate mobile policies will help employees be more aware of usage, rather than relying on alerts or notifications," said Cameron Sowder Director of TEM Operations and Strategy for Manage Mobility.
"With all the technology, regulatory and internal changes impacting the cost of telecommunications today, and the increase of "hidden charges" over the past several years having a good TEM program in place with a trusted advisor have become a necessity more than ever before. It is critical for companies to take the time to find right solution and provider who not only meets their requirements but is a good cultural fit for their organization," stated Leo Berz, director of professional services, Telecom Ecova (formally Advantage IQ).
TEMIA members have the technology and professional services to adjust employees' plans to maximize savings and avoid unnecessary expenses, and they can help manage carriers' alerts when they become available. TEM and WEM can help organizations proactively manage fixed and wireless expenses. This can have a real impact on the budget, and drive savings to the bottom line.
About TEMIA
The largest Telecom Expense Management (TEM) service providers founded TEMIA, the Telecom Expense Management Industry Association, in 2006. Since that time, TEMIA has grown to 38 members with international corporate headquarters managing over $36 billion of telecom and data spend.
TEMIA's mission is to raise awareness and knowledge of the values and benefits of TEM solutions, to improve the quality and value of TEM solutions through the development and promotion of open industry standards, and industry knowledge among TEM Solution Providers, business partners, telecom service providers, and enterprise clients.
For more information about TEMIA, visit us online.
###