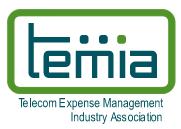 Bill shock – frequently due to excessive roaming charges appearing without warning on the user's invoice – has long been a major source of tension between customers and their providers in Europe. Ben Mendoza, CEO of MDSL
Naperville, IL (PRWEB) October 20, 2011
October 20, 2011 - The Telecom Expense Management Industry Association (TEMIA), the authoritative voice for Telecom Expense Management (TEM) and Wireless Expense Management (WEM) and Mobile Device Management (MDM) Solutions Providers, today released comments regarding a roundup from its members regarding bill shock from unexpected wireless bills.
"International roaming can be expensive and not knowing what it costs is one factor that leads to bill shock. Currently, traveling executives are typically forced to choose between using their wireless devices as normal while abroad and accepting the high cost of roaming, or curtailing usage and even turning off their phones, PDAs and data devices to limit costs -- which limits their productivity and worse, risks losing business," shared Gary Cohen, Senior Vice President and General Manager of Truphone. "International business travelers based in the US will soon have better options enabling least cost roaming and even local tariffs while abroad."
"Bill Shock has been an ever-growing frustration for enterprise organizations. The proliferation of smartphones, business apps and wireless data available to the mobile worker means that the need to control costs and mitigate risk has never been greater" said Erik Eames, Managing Director of Wireless Analytics, a leading wireless expense management and wireless IT managed services firm. "A well planned and implemented WEM program will pay for itself by providing the visibility, security, tracking, and management tools companies need immediately, rather than relying on FCC regulations and carrier compliance in a year or two".
Ben Mendoza, CEO of leading international TEM provider MDSL, commented: "Bill shock – frequently due to excessive roaming charges appearing without warning on the user's invoice – has long been a major source of tension between customers and their providers in Europe. Consumers are perhaps in a better position to safeguard their interests through use of either unlimited plans or – in the short-term – roaming bolt-ons, but the sheer complexity of managing these types of solutions on an enterprise-wide level puts them out of the reach of most companies, just at the moment when politicians on both sides of the Atlantic are calling for greater efficiencies from businesses across the board.
"User's expect their wireless devices to work, regardless of whether they are in their home country or traveling abroad" said Kevin Whitehurst, Co-founder and Managing partner of mindWireless and TEMIA board member. "This is especially true with data-centric smart devices, which are generating 20% greater costs in international roaming than Blackberries and other voice only devices."
"For global organizations, the management of a mobile workforce can be extremely challenging given the variety of devices, plans, and regulations. At Quickcomm, we specialize in, and proactively manage, the complexities associated with all fixed line data, voice, and mobile expenses for customers across the globe. Our solutions simplify the process by providing standardized data across any vendor, service, currency, or language, available 24/7. Through this, our clients gain complete visibility and control over their inventory and contract management; we dramatically improve operational efficiencies and help organizations avoid bill shock." Ian Yates, CEO, Quickcomm.
The best way to avoid bill shocks and unnecessary wasteful spending for organizations that pay bills on behalf of their employees is to follow TEM and WEM best practices. These include:

establishing policies that limit unnecessary use of mobile services
use of TEM/WEM portals to manage procurement of wireless devices and service plans
optimization of service plans through real-time and historical multi-variable analysis to ensure that employees have the right plans
sourcing and contract negotiation to secure more cost-effective plans
automaton of invoice processing to gain processing efficiencies and avoid late payment penalties for corporate and employee paid devices
validation of charges on bills through TEM/WEM systems
better accountability and visibility through charge-back reporting of usage and mobile expenses
proactive measures using real-time management software and other approaches to prevent international roaming, high expense calls (such as 411), and other types of misuse and abuse.
TEMIA members have the technology and professional services to adjust employees' plans to maximize savings and avoid unnecessary expenses, and they can help manage carriers' alerts when they become available. TEM and WEM can help organizations proactively manage fixed and wireless expenses. This can have a real impact on the budget, and drive savings to the bottom line.
About TEMIA
The largest Telecom Expense Management (TEM) service providers founded TEMIA, the Telecom Expense Management Industry Association, in 2006. Since that time, TEMIA has grown to 38 members with international corporate headquarters managing over $36 billion of telecom and data spend.
TEMIA's mission is to raise awareness and knowledge of the values and benefits of TEM solutions, to improve the quality and value of TEM solutions through the development and promotion of open industry standards, and industry knowledge among TEM Solution Providers, business partners, telecom service providers, and enterprise clients.
For more information about TEMIA, visit, http://www.temia.org.
###