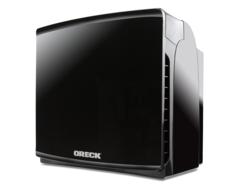 "Oreck is excited about the opportunity that this new partnership represents. We're delighted that our products are now available at Walmart," says Jeff Collins, Oreck's Vice President, Sales
Nashville, TN (PRWEB) October 22, 2011
Oreck Corporation, a leading manufacturer of quality products in the homecare industry, announces the introduction of Oreck's OptiMax air purifier which will be sold exclusively for six months in select Walmart stores. Check walmart.com for locations.
Oreck's Steam-It all-purpose steam wand will also be available at Walmart stores for a limited time.
"Oreck is excited about the opportunity that this new partnership represents. We're delighted that our products are now available at Walmart," says Jeff Collins, Vice President, Sales, Oreck.
The Oreck OptiMax air purifier provides cleaning power and filtration in a compact, easy-to-use, durable system. The HEPA-type filter captures 99% of dust, allergens, dander and smoke particles that are larger than one micron in size from the air that passes through its filter. The odor filter reduces many household odors from the air that passes through its filter. OptiMax is available in two sizes, comes with a three-year limited warranty and is ENERGY STAR® Certified.
The Oreck Steam-It all-purpose steam wand uses steam to remove dirt and grime without the use of chemicals or detergents. It cleans hard floor surfaces, but can also be used above the floor to steam clean windows, kitchen and bath fixtures, tile and grout.
About Oreck
Headquartered in Nashville, Tenn., Oreck Corporation is a leading manufacturer in the homecare industry, offering a variety of vacuum, air purification and other cleaning products. Oreck sells its products in hundreds of Oreck Clean Home Centers, as well as through phone and online direct sales. The company distributes products in the U.S., Canada and parts of Europe. For more information, please visit http://www.oreck.com.
###