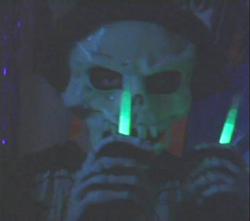 Giving glow sticks to trick-or-treaters ensures that children are easily seen by motorists.
Tarzana, CA (PRWEB) October 21, 2011
Halloween is the beginning of an exciting time of year for children, as well as the child in all of us. First Aid Global Wholesale offers these Halloween Safety Tips:
1. Remind kids to be cautious and to stick with a buddy at all times. Plan routes and communicate with other parents so that every child in a group can easily be accounted for.
2. For those staying home, make sure that your driveways, walkways and yards are clear of debris in order to reduce the risk of falls.
3. Children and parents are advised to trick-or-treat in well-lit areas with clear walking paths or sidewalks. Use of reflective stickers, flashlights and glow sticks to help ensure that children are easily seen by motorists.
4. Now is the time to equip your ghouls with a cell phone, and set a return time so you know when to expect them.
5. Halloween can be a time for vandalism as well as burglaries. It is easy to spot who is and isn't home, and with the commotion outside, a thief can blend in quite easily. Make sure doors and windows stay locked and the home security system is set. Deter would-be criminals with well-lit alarm company signs.
6. When your night-walkers return, inspect all the candy and goodies before kids dig in. Survey for opened or broken wrappers, suspicious-looking items or any ingredients children may be allergic to.
Glow sticks are inexpensive and fun for parents and children. Fasten one to each of your youngsters and give them as treats to those trick-or-treaters who dare show up at your door. At FirstAidGlobalWholesale.com, you can purchase a dozen light sticks for only 80-cents each.
First Aid Global in Tarzana, CA can be reached toll-free at 866-305-1753, or try their 'spooky' local number, 818-705-for911 (818-705-4911).
First Aid Global has been in business 15 years restocking First Aid Cabinets, Safety Gear and Food Service Gloves and servicing Eye Wash Stations as well as providing CPR and AED Training. Their line of Earthquake Preparedness Kits have expanded to include customers in all 50 states, including disaster preparedness for tornados, hurricanes, fire and smoke escape, and emergency blackouts or power failures.
###