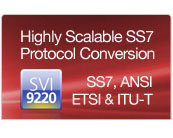 Squire Technologies' flexible installation and support service played a pivotal role in rapidly streamlining our TDM network at a significantly reduced cost
(PRWEB UK) 21 October 2011
WaveCrest are one of Europe's largest providers of hosted telephony services, with increasing yearly revenues of £100M from its global wholesale and retail markets. To enhance their services to leading organisations in VoIP and calling card arenas WaveCrest undertook a major network migration project to implement a next generation network.
Rhys Williams, Chief Technical Officer WaveCrest "In addition to the proven SVI functional superiority, Squire Technologies' flexible and timely installation and support services played a pivotally important role in rapidly streamlining and bridging our TDM network at a significantly reduced cost."
In order to fully benefit from this migration a cost effective TDM solution supporting interworking between ETSI ISUP & UK IUP was required. After consulting many leading companies, WaveCrest chose 'SS7 Specialists' Squire Technologies, whose SVI-9220 SS7 Protocol Converter solution enabled WaveCrest to utilise their existing infrastructure and media gateways with a signalling only solution, resulting in a substantial reduction of the capital expenditure.
The Squire Technologies' SS7 Protocol Converter was integrated into the network specifically for seamless protocol conversion of UK IUP, providing a powerful, fully scalable SS7 Signalling solution with support for up to 128 SS7 Signalling links, dual redundancy and a fully featured management interface.
Simon Dinnage, Business Development Director, Squire Technologies. "Squire Technologies again shows that its SS7 expertise and specialist products were able to provide an elegant cost saving solution to a major service provider. We look forward to our continued relationship in providing WaveCrest with more solutions in the future."
About WaveCrest
WaveCrest is a global communications service provider offering wholesale and retail telephony services and solutions. WaveCrest operates a state-of-the-art, next generation network and provides services to many of the leading names in VoIP, MVNO and calling cards. Founded in 2001 and based in London, WaveCrest has operational activities throughout Europe and USA and is continuing to expand globally. With revenues of approximately £100M per annum, WaveCrest is one of the largest hosted telephony service providers in Europe. WaveCrest is a highly focused organisation with an aggressive and efficient product offering designed to deliver world-class voice services to the residential, pre-paid calling card and wholesale carrier markets.
About Squire Technologies
Squire Technologies provides leading edge NGN & TDM telecommunication products and solutions with world-class installation and support services to deliver carrier grade products worldwide. Supporting high availability, scalability and fully featured management systems, catering for both small interconnect up to large international points of presence.
###