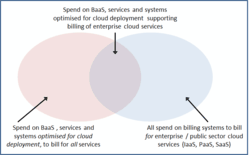 "There have been some ground-breaking contracts for billing-as-a-service with significant telcos"
St Ives, Cambs., UK (PRWEB UK) 24 October 2011
New companies providing "billing-as-a-service" will gradually encroach on the market for traditional telecoms billing systems, according to a new report by analyst house Innovation Observatory.
The report says that as telcos increasingly require their billing processes and systems to support the delivery of cloud services, they will start investigating whether it makes sense to shift from on-premises systems to billing delivered as a service in the public cloud. At the same time the traditional telecom billing system vendors will redesign and optimise their systems for multi-tenant architecture to better support billing of cloud services, and they will hold on to the bulk of the market.
Danny Dicks, author of "Opportunities in telco cloud billing" points out that BaaS providers are starting to make inroads now into the traditional billing vendors' business: "There have been some ground-breaking contracts with significant telcos, such as Tata Communications' choice of BaaS from Zuora to bill cloud infrastructure services, and TeleDanmark's YouSee broadband service being billed by Aria Systems," he says. Some billing vendors, such as MetraTech, are responding by building BaaS offers of their own, separate from their established products.
The Innovation Observatory report forecasts the value of the global markets for enterprise and public-sector cloud services delivered by telecom operators and service providers. It also predicts the value of the global markets for billing systems to support cloud service delivery, and "cloud-based" billing systems and services sold to telcos, delivered either as BaaS or within an operator's own private cloud infrastructure. It shows that the market for this last category will grow to USD1.4 billion by 2015.
The report also identifies telecom operators that have been successful in developing cloud service offers, examines the complex value chains of cloud service delivery, and profiles 12 of the leading relevant providers of billing systems and services.
To buy the report or for more information contact sales(at)innovationobservatory(dot)com or call Jonathan Baron on +44 (0) 1480 309341
###