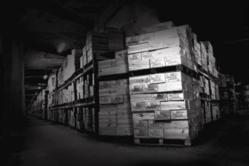 By Stock Value, more than 25% of Octavian's private clients live in Asia
(PRWEB UK) 22 October 2011
• The fourth edition of the annual Hong Kong International Wine & Spirits Fair will be held at the Hong Kong Convention and Exhibition Centre (HKCEC) from 3rd to 5th November

For the first time Octavian will join the 800 other exhibitors at the fair, where Founder and Chairman, Nigel Jagger, will be greeting both trade and private individuals at stand 3D-B25 in the Wine Investment area
The Wine Investment Forum on Saturday 5th November promises to address the now critical issue of wine storage provenance and its role in investment, and will include a presentation by Ella Lister, Octavian's fine wine strategy consultant
Octavian servicing Asia
Octavian is the world's number one provider of fine wine storage to trade and private clients alike, including several hundred in Asia. As the fine wine industry becomes ever more global, Octavian wants to stress that there is no better place on earth to store wine than in its care.
By stock value, more than 25 percent of Octavian's private clients live in Asia, from Hong Kong to Ho Chi Minh.
Understanding the Asian market
We recognise that Asians will continue to be significant buyers of fine wine, and we want to thoroughly understand this market. Our goal is to gather intelligence about what the trade and collectors alike require, to ensure we can provide the optimum support to all our customers.
Pioneering provenance
Over the last two decades, Octavian has set the standard in fine wine storage and led the industry's education about provenance. Today, Octavian clients recognise the value of storage provenance, proved in a recent survey, where 65 percent of respondents said they would pay more for Octavian-stored wine.
We consider it our duty to continue to build awareness of the importance of proper wine storage: to us that means the perfect conditions, absolute security – physical and financial, and rigorous procedures.
Please visit our stand to find out more!
###