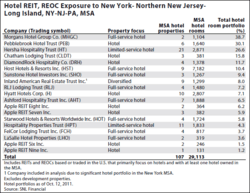 Consumers can change travel and lodging plans quickly depending on the economic picture.
(PRWEB) October 20, 2011
Get the latest scoop on which hotel companies are thriving throughout the New York Metro Area from the SNL Real Estate Trend Report:
Overview:
Lodging REITs track the rise and fall of general economic conditions, as demand for hotel rooms is closely correlated to business and leisure travel. The health of hotel companies generally moves in step with the health of the economy, while also experiencing an annual cycle of growth and contraction unique to the lodging business. Beyond these trends, geographic location is a critically important factor affecting hotels. New York City and the surrounding area offer a strong hotel market thanks to their status as a global hub of business and leisure travel.
Morgans Hotel Group Co. shows the highest exposure with 38.7% of its operating hotel rooms located there. Pebblebrook Hotel Trust and Hersha Hospitality Trust also have high exposure, with 30.1% and 26.6%, respectively.
Host owns 7,182 rooms in the New York MSA, representing 24.7% of the total rooms in the area owned by companies in SNL's coverage universe and 10.4% of Host's portfolio. Due to this heavy exposure, the company's performance provides a useful preview of what investors can expect to see in the upcoming weeks of earnings results from other lodging companies with New York assets. Common themes to expect are improved comparable hotel RevPAR (revenue per available room), with occupancy negatively affected by Hurricane Irene evacuations.
Despite Host's positive outlook for the New York market in the fourth quarter, it is certain that macroeconomic conditions will have a significant impact on the lodging sector. Consumers can change travel and lodging plans quickly depending on the economic picture.
In the third quarter, lodging stocks were hit especially hard by these broader economic worries. The SNL U.S. REIT Hotel index fell 32.2% in the third quarter, compared to the S&P 500, which slid 14.3%.
Click here for the full report.
For further property exposure analysis, contact Christina Twomey at ctwomey(at)snl(dot)com.
SNL Real Estate combines real-time news, in-depth data and expert research on real estate companies around the world. Access detailed news, pricing, financial and property data through SNL's robust Web- and Excel-based platforms. From the North American REIT (public and private), REOC, homebuilding and gaming sectors, to the listed property markets in Europe, Asia and the Emerging markets, SNL is the trusted solution for global real estate investment.
###