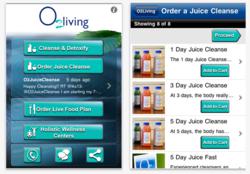 An app that brings our juice cleanses and raw food plans to the public allows us to help people along their holistic journey," Devlin said.
Cross River, NY (PRWEB) October 21, 2011
Making wellness accessible in a fast-paced world, O2Living, a holistic wellness center, recently unveiled its new "Juice Cleanse" app for iPhone. Available for download through the App Store, "Juice Cleanse" is a sleek, user-friendly app that provides interested consumers with information about the benefits of cleansing and detoxifying, as well as the specific juice cleanses and raw food plans available at O2Living.
The app features information on why to detox, tips for identifying the best juice cleanse for your lifestyle and detoxifying needs as well as O2Living's proprietary juice cleanse protocol and tips for effective juice cleansing. In addition to offering details on each of O2Living's five signature detoxifying juices – which range from Almond Envy to Lemon Twist – and customizable raw food plans, the 'Juice Cleanse' app offers busy professionals, moms and other on-the-go consumers the ability to view and order juice cleanses and raw live food plans right from their iPhone.
"Our goal is to make holistic wellness accessible," said Rosemary Devlin, founder of O2Living. "An app that brings our juice cleanses and raw food plans to the public allows us to help people along their holistic journey. Our hope is that the app will show consumers how easy it is to integrate a juice cleanse and/or raw live food plan into their existing lifestyle."
Comprising natural, fresh-pressed fruit and vegetable juices, O2Living's juice cleanses ease the digestive process by replacing meals with specially formulated juice blends which are designed to remove dangerous toxins that may be left behind by food, drinks or medication. Since opening in 2009, the center has offered its own line of signature detoxifying juices, which are available for one, three, five or seven day cleanses. The detoxifying beverages were developed through the collaboration of a holistic wellness physician, nutritionist, O2Living's founder, Rosemary Devlin, and O2Living's executive chef, Tom Donnelly, a certified raw and living food chef and educator, to ensure that they would effectively remove toxins from the digestive system.
To complement its juice cleanses, O2Living offers nutritional consultations with its raw foods nutritionist and cooking demos with its raw live food chef. These offerings, combined with O2Living's customizable raw food plans, are designed to help people optimize the long-lasting benefits of a juice cleanse.
O2Living 's 'Juice Cleanse' app is available for download through the App Store. Juice cleanses and raw foods plans are available for pickup and delivery in Westchester, Putnam and Fairfield Counties.
O2Living is headquartered at 6 Yellow Monkey Village in Cross River, N.Y. and recently opened a satellite facility at the Saw Mill Club, 77 Kensico Drive in Mount Kisco, N.Y. To learn more about O2Living, call 914.763.6320, visit O2Living online at O2Living.com, follow @O2living on Twitter or like O2Living on Facebook.
About O2 Living (http://www.o2living.com)
Headquartered in Cross River, New York, O2Living is an all embracing community dedicated to lifestyle/wellness. Established as Cross River Wellness, LLC (d/b/a O2Living) this holistic wellness center and spa encourages people to live, learn and connect. It offers juice cleanses, yoga, spa services, including signature Oxygen treatments, a retail boutique and Live Food Café nestled in Cross River's quaint Yellow Monkey Village. The wellness community also features an online destination, O2Living.com, where members can connect and communicate about their experiences and build a greater sense of community with those who share their passion for and commitment to health and well-being.
###