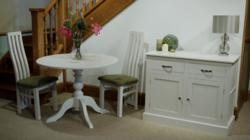 Most of our existing pieces of traditional and contemporary furniture can be used as an initial concept and adapted to incorporate decorate paint finishes according to the clients specification.
Harrogate, Yorkshire, UK (PRWEB UK) 23 October 2011
Alan Cryer Fine Furniture of Bishop Thornton, Harrogate have recently launched their new range of bespoke painted furniture. With 37 years of manufacturing high quality oak furniture, their new painted range adds to their growing repertoire of handcrafted furniture. From traditional oak and ash sideboards, bedroom furniture, dining tables and chairs to more contemporary pieces.
Owner & Craftsman, Alan Cryer says 'Our new painted range hands over some elements of creativity to our clients, they come with an idea or bring a sketch of something they would like. We can then design a piece around their specification, there is no mass production, pieces are made to order. Most of our existing traditional and contemporary pieces can also be used as an initial concept and adapted to incorporate decorative paint finishes. Either way the end result is the production of a unique piece of hand crafted furniture, a timeless piece that will be with them for future years to come.'
Alan continues "With the revival in restoration and period colours, we are able to produce painted furniture pieces in a range of English heritage colours or if the client prefers something from a more contemporary palette. We can leave certain elements of the piece in a natural finish, such as the dresser or table top, or even combine 2 colours. We can also produce a weathered 'shabby chic' effect. To compliment the furniture, clients can choose from a selection of antique style fittings to more contemporary handles. We also have access to a vast selection of materials and cloths for chair coverings which include chenilles, rich velvets, floral prints, leather and flat weaves."
Their furniture includes: dining tables, chairs, coffee tables, sideboards, dressers, corner cupboards, bookcases, bureaus, bedroom furniture, office furniture and one off pieces. Furniture can be made to measure, allowing a perfect fit into an awkward or restricted space.
Alan Cryer Fine Furniture is one of a rare breed of UK furniture makers remaining, with cheap imports and mass produced flat packs dominating the market, this privately owned business has remained true to their craft and continued to uphold it's high levels of craftsmanship using the finest raw materials.
Each piece is carefully created in their purpose built workshop in Bishop Thornton, North Yorkshire, by one of the skilled team using traditional construction techniques. It is the time and care taken to make each piece of furniture that will make these the antiques of tomorrow.
Alan Cryer Fine Furniture are located in Nidderdale at Oakwood Park Business Centre, Bishop Thornton, Harrogate HG3 3JN. For further information contact the showroom on 01423 771772.
Opening Hours: Monday to Saturday 9am-5pm
# # #