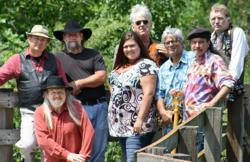 Pine River, MN (PRWEB) October 22, 2011
Great North Show Providers has announced the 2011-2012 tour dates for Doug Spartz, a national Americana recording artist. Spartz will bring his Americana music show to various venues throughout Minnesota, Wisconsin, Iowa, North Dakota and South Dakota.
But, to get to the present, one has to look back at where he has come from. Spartz, a longtime musician wanted to return to writing and recording, so in 2006 he released "American Stories, Lies & Tales" which was originally targeted to the Americana radio format. It soon became apparent to music industry insiders that this project needed to go out to mainstreet country radio. One of the cuts, "Name on the Wall" was penned by Spartz and his producer Doug Deforest and the song was picked up by XM Satellite radio and garnered a rare invitation for Spartz to come out to Washington, DC to perform a live show. The nationally syndicated show, After MidNite with Blair Garner, featured "Name on the Wall" during their "Pick It or Flick It" segment. The song was picked as a hit by listener survey participants and the next day, Country Aircheck named his song as the Country Aircheck Daily Shaker, supported by Mediabase 24/7 tracking data, which showed that it had the biggest spin increase by a previously uncharted song landing in the #66 spot on Billboard's Country Chart. Before he knew it, Spartz found himself being courted by people in the music industry. "If someone else would be telling me this tale, I would have to think they were making it up", Spartz states. "We knew when we wrote "Name on the Wall" that the song was good, but when you start getting emails like the one I got from Ron Geslin (formerly with RCA Records) and he is saying things like "Name on the Wall" is a smash hit", you just can't help but shake your head in amazement".
Several industry people heard the song and came onboard to promote and manage Spartz' career, including the former Senior Vice-President of Pop Promotion at Jive records who was instrumental in launching the careers of Brittney Spears and the Backstreet Boys; Timothy D. Kehr, who worked for Columbia Records and Epic Records as a promoter and was named Billboard's Magazine's Promotion Man of the Year for six years straight; and Americana Radio Promoter, Fred Boenig, who promoted the song to radio stations all over the country and personally contacted parents and families of soldiers who had died in the line of duty.
The team moved quickly and began to promote the song to record labels and industry executives. Several of them expressed interest, only to have the bottom start to fall out of the music industry as digital music began to take over and many of the promoters and executives were downsized.
Publicist Cindy Hudson-Spartz recalls the ups and downs of that period. "We got an email from a producer with Broken Bow Records saying he was interested in the song and that he would get back to us when he returned from the County Music Awards ceremony in Las Vegas, only to get an email the next week saying that he returned home to Nashville, and found out that he was without a job".
The song continued to gain ground when KIIM radio, a major country station in Tucson, AZ put the song on their nightly "Bunkhouse Brawl" show, pitting two songs against each other and letting the listeners call in to vote. "Name on the Wall" was the overwhelming winner for 5 straight nights, before retiring as the champion. Lois Lewis, DJ, said that there was "just no winning against Doug and "Name on the Wall", with the song beating out new singles by Tim McGraw and Daryle Singletary".
Just as things looked like they were finally going the right direction, life took an unexpected twist when Spartz suffered a heart attack and the focus shifted from record charts to medical charts. He put all music plans on hold and he focused his energy on recovering. When a couple of months passed without significant improvement, he went to the Mayo Clinic in Rochester where they discovered stage-4 colon cancer. He underwent major surgery to remove the cancerous portion of his colon. Barely three weeks into his recuperation, he boarded a plane and returned to the studio in Arkansas to record what he thought at the time would be his final project, appropriately titled "The One Who's Leavin'". Other top American artists joined him on select songs, including Jay Boy Adams, Tom Gillam and Eileen Jewell, and the finished project was released to radio. The CD immediately shot to the top of the chart and spent seven weeks in the top five, peaking at #4 and R&R Magazine named it the #20 release of the year in their top 100 for 2007. In this same period, "Name on the Wall" re-entered the Billboard Country Chart for the second time.
Spartz set out that summer on an extensive radio tour that took him from the east coast down to Texas, but upon returning home to Minnesota, he was hospitalized again for an angioplasty. He made plans to attend the Americana Music Conference in Nashville in October, but instead was rushed back to the Mayo Clinic and he underwent a heart bypass.
All music plans were put on hold indefinitely as he and his wife returned to their home to rest and recover for the next couple of years, but there was always this feeling that he had left things unfinished; and that is what brings us back to the present.
Working with Great North Show Providers, Spartz has put together a 2011-2012 musical tour, appropriately called the "Unfinished Business Tour" that will feature two musical shows, "American Stories, Lies & Tales" and "Almost Home, an Americana Christmas". He put together a seven piece band and production staff that will start touring on November 16th. Joining Spartz onstage will be vocalist Dawnl McArthur, a well-seasoned young singer, who began her career at age 4 and was featured at 11 years of age at Branson's Country Tonight Theater; Lonnie Knight, premier guitarist and vocalist, Lauren McArthur, long-time member of the Whitesidewalls and other prominent groups; James Plattes, who is accomplished on the fiddle, mandolin and harp; Reid Papke on bass; Gary Haberman on drums and percussion, and Kenny Thompson on vocals and guitar.
"The opportunity to work with the caliber of these musicians, is a dream come true for any performer," notes Spartz. "The experience that they all bring to the show is something that you won't often find; I have such respect for the tremendous amount of talent that they have."
For a complete schedule go to http://www.greatnorthshowproviders.com or call 218-587-2377. Tickets for any of the shows can be purchased by calling 218-536-0589 or emailing amy(at)greatnorthshowproviders(dot)com. Persons interested in group rates can contact Ashlee Shamp, Group Sales Director at 218-587-2412 or ashlee(at)greatnorthshowproviders(dot)com.
Where things go from here is anybody's guess, but Spartz isn't going to let anything stand in the way of finishing what he started all those years ago.
###