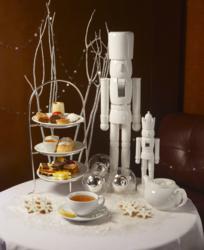 New York, New York (PRWEB) October 24, 2011
Get into the holiday spirit and ring in 2012 at Manhattan's celebration destination, Mandarin Oriental, New York. Guests of all ages will enjoy the hotel's festive assortment of holiday happenings.
Mandarin Oriental, New York's New Year's Eve Gala
Mandarin Oriental's second annual New Year's Eve Gala Saturday, December 31, 2011 brings back the essence of the iconic Manhattan New Year's Eve parties in the hotel's stunning 36th floor ballroom with one-of-a-kind spectacular Central Park and city skyline views. This elegant black-tie evening begins at 8:00 pm with an open bar cocktail hour offering an array of delicious hors d'oeuvres stations. The Gala includes a 3-course gourmet dinner with gourmet delicacies including Osetra Caviar, Black Winter Truffles, Lobster, King Crab, Wagyu Beef, followed by an incredible dessert buffet display. Surprise entertainment and dinner show acts will delight guests throughout the evening. After dinner, live music with New York City's legendary Hank Lane Orchestras will have everyone dancing their way into 2012.
Tickets to Mandarin Oriental, New York's New Year's Eve Gala are priced at $1,500 per person, plus tax and gratuity. For gala tickets please call +1 (212) 805 8858 or email NewYearsEveNYC@mohg.com.
Holiday Jingle Tea
Make memories with friends and family this holiday season with Mandarin Oriental, New York's Holiday Jingle Tea. Start the festivities with a private horse and carriage ride around Central Park for the ultimate "jingle bells" tour. Upon return, enjoy a decadent Nutcracker Tea in the Lobby Lounge with spectacular, scenic 35th floor views of Central Park and the Manhattan skyline. The Holiday Jingle Tea accommodates up to four people, is available to both guests and non-guests of the hotel, and is priced at $396 plus service charge and tax. Reservations are required and booked at least one week in advance. For reservations contact the Concierge desk at +1 (212) 805 8890.
Nutcracker Afternoon Tea
The 35th floor Lobby Lounge showcasing snowy Central Park and the glittering Manhattan skyline is the perfect location to celebrate the holiday season with the annual afternoon Holiday Nutcracker Tea. The tea service begins with your choice of elegant Tealeaves teas and savory sandwiches including White Truffle Egg Salad with smoke paprika on pumpernickel and Smoked Salmon with candied orange marmalade and pistachio crème on rye. Sweet holiday delicacies finish off a lovely afternoon with Linzer Star Cookies, Fruit Cakes, Coconut-spiced Chocolate Snowballs, Caramel Toasted Pecan Pie and Eggnog Panna Cotta.
The Holiday Nutcracker Tea is available from 2:30 pm - 4:30 pm daily in the Lobby Lounge at Mandarin Oriental, New York from November 28 – December 25, 2011 and is priced at $48 per person. For more information or reservations, please call +1 (212) 805 8800 extension 8266.
Thanksgiving Turkey-To-Go Dinner
This year, enjoy a holiday family gathering without the work with the Thanksgiving Turkey-to-Go Dinner from Mandarin Oriental, New York. Your ready-made 3-course gourmet dinner begins with a traditional-style Slow Roasted Natural Farm-Raised Turkey with sage pan gravy. Accenting the meal is an array of sides including baby arugula salad with frisée, roasted golden beets and goat cheese, parmesan and red pepper cornbread, roasted garlic mashed Yukon potatoes, country sourdough bread stuffing with fennel and apples, maple-glazed sweet potatoes with candied pecans, Roasted heirloom squash with brown sugar and balsamic vinegar, artisan bread and bread rolls with honeycomb butter and cranberry-orange relish. Decadent dessert choices include a selection of double crusted apple pie or spiced pumpkin pie. Turkey-To-Go is available for guests and non-guests of the hotel. Turkey-To-Go is priced at $60 per pound with a minimum of 8 pounds that serves 2 - 4 guests. Orders may be placed beginning October 24, 2011 by calling +1 212 805 8800 ext. 8321 through Monday, November 21, 2011. Turkey-To-Go is available for pick up for non-guests after 11am on Thursday, November 24, 2011.
Pampered by Appointment
This season take your holiday shopping to the next level with Mandarin Oriental, New York's exclusive Pampered by Appointment program. Guests will receive exceptional service in the city's finest shops and boutiques with a VIP greeting upon arrival in stores like Bally, Armani, Burberry and Diane Von Furstenberg. Purchases made by the guest will receive priority tailoring services and complimentary courier to the hotel for select items.
Pampered by Appointment is available through the Concierge team by calling +1 (212) 805 8890. Pampered by Appointment requires an advance appointment for certain services.
Holiday Recovery Facial Series
The Spa at Mandarin Oriental, New York's Holiday Recovery Facial Series is the perfect post-holiday recovery regimen for the skin and an ideal holiday gift. Book three 80-minute facials from The Spa's Facial Collection and receive 10% off the retail price. The series is available for any of The Spa's customized, high-performance 80-minute facials including the Vitamin Infusion Facial for repairing and renourishing fatigued skin, the Nature's Radiant Facials for all natural, chemical-free skin care, or the Opulent Rejuvenesence facial for intense collagen building and anti-aging results.
With the 10% discount, rates for the Holiday Recovery Facial Series begin at USD 824 which include three facials of the same type. Full payment for the entire series and facial appointments must be booked in advance. The Holiday Recovery Facial Series is available November 7, 2011 – January 31, 2012 and must be used within six months of purchase. For more information, or to purchase, please call The Spa at Mandarin Oriental, New York at +1 (212) 805 8990.
The Perfect Gift – A Mandarin Oriental Gift Card
Searching for the perfect gift? Delight friends and family with a gift of luxurious and legendary experiences with the Mandarin Oriental Gift Card. The Mandarin Oriental Gift Card is available in denominations ranging from $50 to $10,000, and can be redeemed for hotel accommodation, indulgent spa treatments, dining and more. Mandarin Oriental Gift Cards can be purchased year round online at http://www.mandarinoriental.com/giftcard and at Mandarin Oriental, New York's Spa and Spa Boutique. There is no expiration date, and the cards can be used at any participating Mandarin Oriental hotel regardless of the place of purchase.
About Mandarin Oriental, New York
A stunning fusion of modern design with stylish Oriental flair, Mandarin Oriental, New York features 248 elegant guestrooms and suites — all with breathtaking views of Manhattan and Five-Star hospitality. Luxurious amenities include Asiate, the hotel's elegant restaurant; MObar created by noted interior designer, Tony Chi; the Lobby Lounge with dramatic views of Central Park; a 14,500-square-foot, Five-Star Mandarin Oriental Spa; and a state-of-the-art fitness center with a 75-foot lap pool. In addition, there is premium meeting and event space, including a 6,000-square-foot pillar-less ballroom with three walls of windows overlooking Central Park. Located in Columbus Circle's Time Warner Center, Mandarin Oriental, New York is in an idyllic location just steps away from world-class dining, shopping and entertainment, including the Broadway Theater District, Lincoln Center, Central Park, Jazz at Lincoln Center and the Time Warner Center's collection of upscale retail shops and restaurants.
Mandarin Oriental Hotel Group is the award-winning owner and operator of some of the world's most prestigious hotels, resorts and residences. Mandarin Oriental now operates, or has under development, 41 hotels representing over 10,000 rooms in 27 countries, with 17 hotels in Asia, 12 in The Americas and 12 in Europe, Middle East and North Africa. In addition, the Group operates, or has under development, 13 Residences at Mandarin Oriental, connected to the Group's properties.
Photography of Mandarin Oriental is available to download, in high and low resolution, in the Photo Library of our Media section, at http://www.mandarinoriental.com.
###