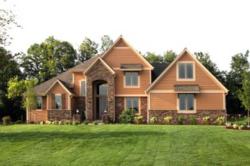 Milwaukee, WI (PRWEB) October 20, 2011
The Tuscany by Milwaukee custom home builder Belman Homes has just received the coveted 2011 Metropolitan Builders Association's People's Choice Award for Best Overall Home. The model home, located at N23 W23827 Talon Court in Pewaukee, has just sold. The model home will be open for a limited time: Saturdays and Sundays from noon until 4 pm until Sunday, November 6, 2011.
Belman's Tuscany model also received People's Choice Awards for Best Interior Design and Best Room for its "Ultimate Escape" master bath, which features impressive stone work, custom cabinets and a Kohler digital shower. The suburban Milwaukee custom home also won three privately judged awards for Exterior/Landscape, Interior Design, and Overall home.
"I am pleased to announce that the 2011 People's Choice Award-winning Tuscany model, the largest home in the Parade of Homes, is now sold," said David Belman, Vice President at Belman Homes, Inc. "We will stop showing the home after the open house on Sunday, November 6, 2011, so this is the public's last chance to see this exciting home."
Featured on Fox 6 Real Milwaukee with Tony Clark, WISN 12 News at 6:00, and in four different articles in the Milwaukee Journal Sentinel, the 4556 square foot 5 bedroom, 3 ½ bath model home was the largest residence presented in the 2011 Parade of Homes. It features a home theater room, wine bar, and a screened-in porch / 3-season room. The warm Tuscan kitchen contains natural stone floors, custom cabinets and built-in appliances.
Although Belman Homes just celebrated its 30th anniversary this year, this is the first-ever entry in the Parade of Homes by the Waukesha builder.
"The 2011 Parade of Homes was a tremendous success for both the builders and associates in terms of attendance and interest at the event," said Belman. "Twelve of the 18 Parade of Homes models are now sold, which is a good sign for the housing market."
For more information about the Tuscany model or any other model home, call (262) 544-4648 or visit http://www.belmanhomes.com.
About Belman Homes, Inc.
Belman Homes, Inc. has served the Waukesha and surrounding Milwaukee area communities as builders, land developers, REALTORs and Milwaukee green home building experts for the last 30 years.
###