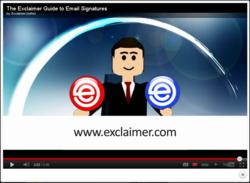 Forgotten products don't sell
(PRWEB UK) 24 October 2011
A visual guide to email signature technology has been released by industry experts Exclaimer, the group announced today.
'We've lost all the carefully refined detail that effused brand values on physical mail', explains Chris Nicholson, web branding strategist.
'Signatures regain the essential impact that was so effective on traditional mail – they're short, sharp, powerful reminders of your brand and its unique values'
'Forgotten products don't sell – and that's why this is vital'
The email signature software guide explores the two methods of adding signatures: on a mail client, like Outlook, or on a mail server – and why good businesses need both.
The server-based Mail Disclaimers can add branding to every email sent – from Outlook, smartphones, OWA and any device or client – then auto-adjust it to suit various recipients.
Paris contacts can get branding in French while LA clients see it in English, or potential buyers can see sign-up deals and long-time clients are shown loyalty rewards.
Signature Manager lets Outlook users see the signature below their message as they write and lets departments centrally control all the fonts and formats used.
Combining them provides full power – signatures on every email, visible before they're sent, yet automatically tailored for maximum impact.
They both auto-fill each user's contact details – so everyone's signature is instantly and automatically filled with the correct data, the second it's sent.
Exclaimer C E O, Andrew Millington clarified, 'It has to be automated: one click must make update everything – perfectly.
'Without dedicated software, email branding is a trade-off between looking amateur and wasting an IT admin's time.
'We wanted to explain this in the same way it works: quickly, easily and stylishly.
'Making business look good is only half the job – the rest is making it easy'
###