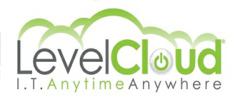 the new integration allows seamless use of Amazon to store less sensitive archive storage so that our clients can leverage some of the cheapest storage on the market
Corona, CA (PRWEB) October 20, 2011
With the rapid growth of public Cloud storage such as Amazon Web Services, LevelCloud users will now have the ability to leverage inexpensive storage for archiving their old or less frequently used data. Typically pure public Cloud storage is not suitable to host a company's entire network as it poses compliance issues and lacks the stability a private environment like LevelCloud can offer. "We have always been very skeptical of leveraging Public Cloud like Amazon to build our platform on, but the new integration allows seamless use of Amazon to store less sensitive archive storage so that our clients can leverage some of the cheapest storage on the market," said LevelCloud CTO Olivier Matime.
Users can simply copy and paste documents or files from their WebTop directly to Amazon storage from within the WebTop's Cloud File Manager. No need to sign in to Amazon manually or do any complex upload, just simply copy and paste. Cloud Drive also gives the ability to map LevelCloud drives with local drives so that a user can sync documents if desired. "The ability to sync files and documents from a LevelCloud account to a users local device has been well received by clients who have traveling salespeople that must work in remote locations with no internet connectivity. They can simply work on a document on their local computer and the next time they connect to the WebTop the documents will sync, update, and be backed up on LevelCloud," explained LevelCloud Sales Director Adrian Francoz. The Cloud Drive and Amazon integrations are now available on LevelCloud, new features are to be announced before the years end that will give users some enhanced communication features.
ABOUT LEVELCLOUD
LevelCloud provides businesses with a turnkey cloud computing solution that replaces the traditional onsite network. The entire business network (e-mail,apps,data) are delivered through a centralized platform powered by dedicated resources in state of the art datacenters. LevelCloud enables organizations to free themselves from the traditional constraints of IT, and empower their staff to work anytime, anywhere, on any device through a collaborative platform.
###