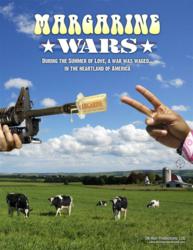 Chandler AZ (PRWEB) October 31, 2011
Margarine Wars' cast is an exceptional group of talented actors and actresses dedicated to making this film a box office success. Among the many talented actors are Emmy winner Doris Roberts and Academy Award nominee Robert Loggia. The production company is thrilled to showcase the actors that made the characters come to life onscreen.
DB Rich Productions LLC is gearing up to release Margarine Wars in January 2012. Margarine Wars is set in a small conservative town in the middle of Wisconsin. New Yorker, Howard Schmear, unexpectedly gets stranded in this small town. The only way he can make money and get his vehicle fixed is to peddle the only substance that is illegal in the town of Butterfield, Wisconsin. Howard causes a stir and satisfies palates by selling margarine to the residents of Butterfield. This film gives you a glimpse into a small town and their many strange mannerisms.
Margarine Wars could not have been a success without the actors that breathed life into the characters. "Everybody Loves Raymond" star, Doris Roberts, plays Grandma Betty. Doris shines in this film and she brings an added grace and appeal to this amazing comedy. Doris Roberts and Robert Loggia had a blast interacting and playing a married couple. One of the many reasons Doris signed on to star in Margarine Wars is so she could work with Loggia.
Actress Ellen Muth was amazing as Katie Trumball, the feisty reporter and daughter of the judge. She shined in the lead female role, making the character her own. Ellen perfectly represents the hometown girl who loves the small town life. In addition to the exceptional talents of Ellen Muth, Dee Wallace brought an amazing energy to the set. She was so positive and supportive of the less experienced actors. Ever the consummate professional, Wallace's comforting nature made everyone feel at home.
In addition to the seasoned actors, many less experienced talent had the opportunity to prove themselves and let their stars shine. It was wonderful to see the ensemble talent working together, helping the less experienced actors reach their potential. Margarine Wars cultivated friendships among the cast members. DB Rich Productions LLC wants to thank the local actors for bringing a fresh and enthusiastic attitude to the set.
For information on Margarine Wars, you can visit the website http://www.margarinewars.com or like the film's Facebook page at http://www.facebook.com/Margarine Wars.
###