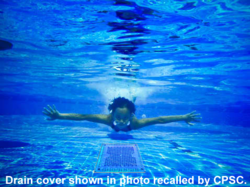 It's hard to believe how easy it is for these things to happen and how horrible the results can be.
Tampa, FL (PRWEB) October 31, 2011
Imagine a beautiful day in the sun at a swimming pool with children playing happily and everyone having a great time. All of a sudden there is a commotion ... one of the children can't be seen. They've become trapped against an underwater drain. Although they are eventually pulled from the pool, they have drowned, a portion of their insides have been pulled out by the raw power of the pool pump and the hidden trap of the pool drain, or they have been otherwise seriously injured. Play It Safe Technologies has developed an automatic pump shut off system to help prevent these tragedies in swimming pools and spas.
It's hard to believe the danger that lies just beneath the surface of a huge number of swimming pools in the U.S. and around the world. And harder still to believe the injuries that can be caused by them. Pool and spa pumps, of any size, create a powerful suction. If the pump and drain system cover are not properly designed or installed, unsuspecting bathers can become trapped by this force. Once this occurs, the situation can turn very dangerous, very quickly (literally, in a second or less.)
"Most people and pool owners are simply not aware of this danger" said Rex Cowan, Manager of Play It Safe Technologies, LLC. "It's hard for them to believe how easy it is for these things to occur and how horrible the results can be."
One such recent incident occurred when a little girl's mouth came to close to a drain. The suction from that drain immediately inverted her lungs, stomach and intestines, causing death in just a moment's time. "These horrific incidents happen more frequently than you would think," said Cowan. "There is a long list of court cases that have resulted in large judgments against pool owners and others."
The device developed by Play It Safe Technologies shuts off the pool pump when the flow of water is blocked. "We believe we have developed the safest and simplest system to help protect against these dangers," said Dr. Steven Beckham, developer of the Safe Shield Anti-Entrapment System. "Once attached to a new or existing pool, there are no settings to adjust. It works in the background providing protection," said Beckham. "When activated the System immediately and automatically turns off pool pump until it is later intentionally restarted. We wanted the system to be as fail-safe as possible."
Play It Safe Technologies is based in Winter Haven, FL. The blog on their website provides a wealth of information on these topics.
The Safe Shield APS 120 Automatic Pump Shutoff is available for purchase through Amazon.com. The APS 120 is available for a limited time at an introductory price of $399. The regular list price is $750.
You can also visit the Play It Safe website for more information at: http://www.PlayItSafeTech.com.
# # #