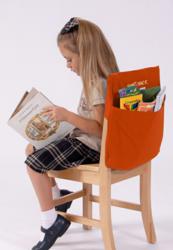 "I love the new orange color!"-Karen Neill
Naples, FL (PRWEB) October 22, 2011
The Original Seat Sack ™ Corporation is changing with the season. This fall the corporation announced the unveiling of a fresh new orange Seat Sack™ color to add to their list of popular patented chair pocket storage systems. The debut came shortly after the company announced that they had improved the durability and stain resistance of their current fabric. The new fabric comes with a limited 3 year warranty.
According to President and Founder, Ann McAlear, "the company initiated the new color after a Constant Contact survey and when our customers ask, we listen." The new color will add a fresh appeal to the already popular line up of original blue, apple red, crisp green, tuxedo black, sunny yellow and royally purple current color choice selection. "Requests for this color have been coming in for some time now, but we wanted to finalize the decision with a survey," stated McAlear.
"The fresh new orange color was first announced through an "I spy" contest on Seat Sacks™ Facebook® Page" explained Michelle Holder, Director of Marketing & Sales. The event encouraged users to find the new Seat Sack™ color that was hidden right out in the open for customers to find. The first ten customers who found the new color received a gift certificate for their efforts. "I found the new color," texted Erin Rafferty. "…and I bet it will look great!" Finding the color proved challenging for some, but a great time was had by all.
Seat Sack™ Inc provides practical storage solutions for the home, school and office. Their popular patented Seat Sack™ storage pouch is sold to parents, teachers and school districts worldwide. In addition to the Seat Sack™ the company offers a complete line of practical storage solutions for lockers, classrooms, home and office; including but not limited to the hand-e-sack®, lock-n-sack®, locker sack, file-n-save sack™, strap-n-sack™ and side sack. To learn more about these products and others, visit their website or call 1-800-764-1235.
###