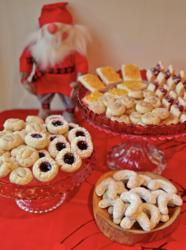 Los Angeles, CA (PRWEB) October 24, 2011
During the holidays most people like to indulge in favorite sugary confections. This year celebrate the season with unique holiday treats from the land of Santa Claus: Scandinavia. Chef Kristina Vanni, known for her "Easy, Elegant and Everyday" approach to all things food, shares holiday treats from her native homeland in the northern corner of Europe that will warm the heart but not have you spend hours in the kitchen.
In winter when days become short and sunlight is sparse, Scandinavians welcome cozy, indoor meals. There is also a desire in the winter to fill the home with color. Scandinavians might change the linens or hang brilliantly colored curtains to brighten up the house. So during the holiday season cookies play an important role in bringing an array of colors not only to the dining table but the home!
"Scandinavians pride themselves on living close with nature. The food, in turn, honors the simple beauty of the ingredients used," Kristina explains. "The six varieties of cookies I have provided fully represent the unique flavor experiences of the Arctic North: from cardamom and anise, to lingonberry jam and pearl sugar, the flavors of Scandinavia add unique flavors for any holiday meal or party."
And no celebration is complete without something special to wash it all down! Because of the cold winter temperatures, Scandinavians are known to sip large quantities of warm drinks. A Scandinavian holiday treat is "glogg" – a traditional mulled cider or wine that is warm and spicy, with a festive "kick." In Denmark, friends and families host glogg parties. The children are served non-alcoholic glogg while they make paper baskets used to decorate the Christmas tree. The baskets are then filled with candy and hung on the tree on Christmas Eve. Meanwhile the adults enjoy their own version of the hot, spicy punch along with a tray of cookies.
So this year ring in the holidays with Scandinavian holiday treats.
A Scandinavian Christmas Cookie Smorgasbord
While the aroma of freshly baked cookies can be intoxicating, many people don't have time to spend hours in the kitchen baking up batches of cookies. Kristina has provided a method to create dozens of beautiful Scandinavian cookies using one simple dough! This dough can even be made several days ahead of time and ready to form and bake at any time. Kristina has provided six cookie variations you can easily create from this one dough. The simplicity and efficiency of these recipes epitomize the Scandinavian ingenuity and style.
Dough:
Makes six cookie variations (see below)
1-1/2 cups (3 sticks) softened unsalted butter
3/4 cup white granulated sugar
1 egg plus 1 egg yolk (reserve white)
1 Tablespoon milk
1 teaspoon pure vanilla extract
1/2 teaspoon salt
4-1/2 cups all-purpose flour
Beat butter and sugar in large mixer bowl on medium speed until well combined. Beat in egg, egg yolk, milk, vanilla, and salt until blended. Add flour gradually to make the dough stiff. Shape dough into a ball and then divide into 6 equal pieces. Wrap each in plastic wrap and refrigerate for 1 hour. (Dough can be made several days ahead, if desired. Let warm up on the countertop until pliable).
Heat oven to 350 degrees. All cookies variations are baked at this temperature. Line cookie sheets with parchment paper- (this is important to do). Follow directions for each cookie, using one reserved dough ball for each type. All of these cookies freeze well. Place in single layers separated by pieces of wax paper in cookie tins or other freezer containers.
1) Walnut Crescents: To the first dough ball to make crescents, mix in 1/4 cup chopped walnuts. Form into 18 small ropes (about 1-1/2" to 2") and curve to form a crescent shape. Place on cookie sheet and bake for 10 minutes. Remove, cool slightly and then gently roll each warm cookie in powdered sugar. Makes 1 ½ dozen.
2) Almond Cookies: To second dough ball, mix in 1/3 cup coconut. Form into 18 small balls and place on cookie sheet. Press one whole blanched almond into cookie. Bake for 10 minutes. Makes 1 ½ dozen.
3) Blueberry Thumbprints: For third dough ball, form dough into 12 round balls. Dip the tops of each ball into coarse pearl sugar and place on cookie sheet. Press finger or thumb into center of cookie to make a hole. Fill hole with blueberry jam. Bake for 10 minutes. Makes 1 dozen.
4) Lingonberry Logs: For fourth dough ball, divide dough in half and make each piece into a 7-inch log. Place logs on baking sheet. Make a long indentation down the center of each log, but leaving an edge on the ends. Fill the indentation with lingonberry or raspberry jam. Bake for 15 minutes. Remove from oven and let logs sit on baking sheet for 1-2 minutes, then carefully slide onto a work surface; let logs cool for exactly 10 minutes. Meanwhile, stir together 1/4 cup powdered sugar, 3/4 teaspoon water, and 1/2 teaspoon almond extract. Drizzle each log with this mixture. Immediately slice cookies diagonally to make 9 slices each log. Makes 1 ½ dozen.
5) Cardamom Scrolls: For the fifth dough ball, shape dough into 12 ropes, each about 5" long. Brush each rope all over with the reserved egg white from making the dough, beaten until slightly foamy. In a small dish, stir together 2 Tablespoons granulated sugar, 1/4 teaspoon cinnamon, and 1/4 teaspoon cardamom; transfer to a small plate. Roll the egg white-coated ropes in the sugar mixture to coat thoroughly. Place on cookie sheet and shape each rope into an "S" shape, then coil each end of the "S" in opposite direction so each end looks sort of like a cinnamon roll (see photo of cookie). Bake for 10 minutes. Makes 1 dozen.
6) Orange-Anise Cookies: For the sixth and last dough ball, place the dough on the lined cookie sheet. Roll dough into a rectangle, 12-inches by 3-inches. Score the dough with a knife lengthwise down the middle, then each side into 12 small rectangles, making 24 pieces. Bake for 12-15 minutes or until lightly golden. Remove and let sit for a few minutes and then use a sharp knife to cut pieces following the scored areas and separating them to cool. Meanwhile, in a small skillet, heat 1/3 cup orange marmalade with 1 teaspoon butter over medium heat until just starting to bubble. Remove from heat and stir in 1/8 teaspoon anise extract; let cool. Spoon a small amount of mixture onto each cookie and let set. Makes 1 dozen.
To accompany these delicious cookies, try a delicious Scandinavian treat - a cup of Glogg. Kristina has provided two versions: one that can be served to children without alcohol, and one just for adults made with red wine. Warming glogg on the stove will fills the house with the aroma of the holidays. It is also a budget friendly party beverage because it is a way to dress up an inexpensive bottle of wine!
Orange-Cinnamon Glogg
Serves 6-8
2 cups orange juice
1/4 cup packed light brown sugar
1 teaspoon ground cardamom
1 (3-inch) cinnamon stick
2 cups white grape juice
Place orange juice, brown sugar, ground cardamom, and cinnamon stick in a saucepan over medium-low heat. Slowly bring to a boil, stirring occasionally. Add the grape juice and heat just until hot; do not boil. Remove cinnamon stick and ladle into cups.
This warm and spicy glogg is for those who prefer a non-alcoholic alternative, or it is wonderful for a festive drink for kids. Drink can be served with a cinnamon stick in each glass, if desired.
Spiced Scandinavian Cranberry Glogg
Makes 6 servings
1-1/2 cups Pomegranate-Cranberry juice, or all cranberry juice
1/2 cup granulated sugar
5 whole cloves
1 (3-inch) cinnamon stick
4 Chai tea bags
1 (28 ounce) bottle dry red wine
At least several hours or several days in advance, combine juice, sugar, cloves, and cinnamon stick in a saucepan. Bring to a boil and remove from heat. Add tea bags to pan, cover, and let sit until cool. Remove tea bags and pour mixture into a covered container until ready to use. When ready to serve glogg, pour the red wine into a saucepan and strain juice mixture into wine. Heat until just hot; do not boil. Serve hot.
This glogg recipe is convenient for holiday enjoyment since the juice base can be made days in advance, and the chai tea bags add a wonderful spicy essence without having to use many kinds of spices.
Recipes copyright Kristina Vanni, http://www.kristinavanni.com.
ABOUT KRISTINA VANNI
Whether it is being named master of the grill or earning kudos for whipping up a sweet treat, this award-winning culinary diva can rock any cuisine and is always ready for her food to take center stage!
Kristina's passion for food began at the tender age of 12 when she earned a spot in the winner's circle at the Pillsbury Bake-Off. Since then she has gone on to win top honors from Martha Stewart, Betty Crocker, and Kraft, just to name a few. Most recently she represented the USA and won an international chef competition in Australia.
Kristina shares her culinary knowledge with television audiences around the world. She served as the food and wine correspondent to Melbourne, Australia for the CBS travel special "Aussie Week." Kristina also hosted the Better Homes and Gardens series "100 Days of Holidays." She can often be seen as a culinary expert and product spokesperson on morning show segments in cities across America.
Kristina also takes the stage in live cooking demonstrations. As "America's Next Pork Personality," she cooked alongside Guy Fieri at the Food Network's New York City Wine and Food Festival. She was named the "Hot Chef 2009" by the National Restaurant Association and is a featured chef at their annual show in Chicago.
Kristina's recipes can be found in cookbooks, food magazines and online. She is also a contributing writer for the National Pork Board, the National Restaurant Association, and is the host of BetterRecipes.com (part of the Meredith Corporation Food Sites).
For more of Kristina's recipes, cooking tips and culinary adventures visit her blog "The Daily Dish" at http://www.betterrecipes.com/blogs/daily-dish . She can also be found interacting with her fans at http://www.facebook.com/betterrecipes and @BetterRecipes on Twitter.
# # #