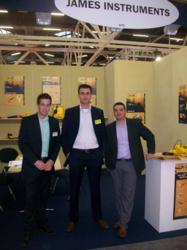 James Instruments Inc. Vice President, Mr. Nestor Chonillo said, "James Instruments is a global brand and leader in the construction testing community. It was very exciting to meet industry professionals"
Bolgna, Italy (PRWEB) October 24, 2011
James Instruments Inc. manufacturer of the world's most advanced Non Destructive Test Equipment for construction materials and coarse grain materials exhibited at the SAIE Cement and Precast International Building Exhibition in Bolgna,Italy October 5th to the 8th, 2011. This was the first year James Instruments Inc along with their representative from their European office James Instruments Europe exhibited at the SAIE. The company found the show an exciting place to meet with customers, present the latest technology and learn about the latest developments in the industry.
This show represents a significant chance for our international customers to try the equipment and to provide us with feed back on what they are looking for. On display were:
Windsor Probe™ Test System: A Non Destructive Test System for Concrete Compressive Strength in the field. Safe, Quick, and Simple to use it is the most effective method of Concrete Compressive Strength Testing on Site. The System performs equally well on standard and high performance concrete. Conforms to ASTM C-805 and other International Standards.
Windsor Pin™ Test System: A unique instrument for measuring the strength of new or existing concrete, mortar and other construction materials in the field utilizing the established principle of resistance to penetration. A unique chuck allows testing of mortar joints compressive strength in the field. Conforms to ASTM C-803
Rebarscope™: Built for the professional this is the most Advanced System for finding the location, depth, and size of reinforcement bar, post tension cables, copper and conduit w/ Cover mapping feature, Storage, and upload to PC!
Mini R-Meter™: Ruggedized for tough field use, this economical hand held unit is used for finding the location, estimates either depth, or size of reinforced rebar, post tension cables, copper and conduit.
V-Meter™ MK IV:The most advanced System for Ultrasonic Pulse Velocity in Concrete, Wood, Ceramic and other Coarse grained and Construction Materials. This test method rapidly and easily allows you to locate cracks, voids, rot and other areas of inhomgenity in the material under test. Testing can also be conducted remotely when using the Velocilinx software. Complete System includes transducers, instrumentation unit, cables and Velocilinx software for PC, Conforms to ASTM C - 597 and other standards
Chlorimeter™:Field Test System to Determine the Chloride Ion Concentration in Wet Or Dry Concrete, and other construction materials. This parameter is fundamental in corrosion analysis of existing structures. It automatically shows a temperature compensated reading of percent of chlorides on its digital display. A wide chloride ranges - from 0.002 to 2% chloride by weight - is covered. Results can be obtained in minutes
Trident™:A Microwave Meter Used for the Rapid Determination of Moisture Content in Sand and Other Fine or Coarse Aggregates. It is fast and easy to use as well as completely portable.
James Instruments Inc. Vice President, Mr. Nestor Chonillo said, "James Instruments is a global brand and leader in the construction testing community. It was very exciting to meet industry professional from Italy and europe and have them test the equipment and hear what their needs are. James Instruments has been a presence in europe for over 25 years and we continue to show our dedication to the european market."
James Instruments Europe Sales Manager, Mr Mark Wiggers added, "The Italian market has always been important to us and our participation in the SAIE has primarely been an investment in getting even better aquinted with our Italian customers and their individual needs. We really appreciate the interest and valuable feedback from our visitors and it has strengthen us in our effort to make an even stronger contribution to the Italian field of NDT. To start with we have gone through the process of setting up Italian web pages which offer the basics on our instruments to improve our communication. For extensive information and support we of course have our Italian distributors in place. So if you have not been able to visit us at the SAIE, just visit us on our website or contact us for one of our local distributors."
The SAIE Cement and Precast International Exhibition is in it's 47th annual edition and is one of the industries longest standing and largest show in the european market. This well-known industry show continued to build upon its reputation as the only annual
international commercial construction trade show for the cement and Precast industry with
85,000 professional registrants in attendance with over 5,000 from foreign visitors from all over europe. The SAIE also showcased just over 2,000 indoor/outdoor exhibitors in more than a 70,000 m2 of exhibit space.
James Instruments specalises in Non-Destructive testing equipment for concrete and other construction materials. Central to the improvement of the concrete infrastructure are tools that evaluate the condition of existing construction. Destructive and non-destructive testing (NDT) techniques are applied. Destructive tests can provide direct information, but are relatively expensive, time-consuming and cause damage to the structure. Destructive test results often cannot be evaluated using statistical approaches because the number of locations in the structure that can be tested without damage to the structure is limited. On the other hand, NDT techniques are relatively inexpensive to apply, and they can detect, localize, and characterize flaws and damage in concrete structures without leaving any undesirable discontinuities or causing damage to concrete members.
James Instruments Inc. is the leading manufacturer of non-destructive test equipment for construction materials, specifically concrete, ceramic, wood and other coarse grained materials. We supply the instruments that measure and analyze strength, structure, corrosion and moisture in concrete and other construction materials. And more. James Instruments -- rugged, quality equipment for field use -- backed by factory service and an ongoing program of research and development.
###