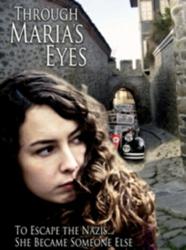 Chandler AZ (PRWEB) October 31, 2011
David Rich and DB Rich Productions LLC have announced the release of their novel, Through Maria's Eyes. The true story of Gizella Rich, a Hungarian-Jewish girl who posed as a Christian to avoid capture by the Nazis, Through Maria's Eyes brings the events of the Holocaust to readers in stark, terrifying detail.
"I promised my mother her story would be told," David Rich explains. Written with Linda Sunshine and adapted from a screenplay by Scott Walker, Through Maria's Eyes is a fitting legacy for a remarkable survivor.
When Gizella Rich arrived in New York City in 1949, she had just lived through one of the darkest periods in human history. With her husband Steven, a survivor of Dachau, and their 2-year-old son Joe, Gizella determined to start a new life and to never forget what she had witnessed. After many years of recounting her story to her son David, Gizella Rich was able to help turn it into a screenplay and now, a novel. The novel depicts the story of Gizella and her sister as they struggle to survive under Nazi occupation.
What makes Gizella's story so fascinating is the fact that Hungary's Jews were fairly safe until late in the war. As an ally of Germany, Hungary was able to avoid the worst of the Holocaust until the Hungarian government tried to end its participation in the war. This drew the attention of the Nazis, who invaded in March, 1944. By the end of the war, over four hundred thousand Hungarian Jews had been sent to Auschwitz.
David Rich will donate 50 percent of his profits to Jewish organizations to help keep his mother's story, and the story of the Holocaust, alive. Gizella Rich passed away at the age of 90, just before the book's release.
To bring Through Maria's Eyes to the widest possible audience, David Rich is currently working on a movie. As the untold story of one of the least-known episodes of World War II, the movie promises to be as important a contribution to the history of the Holocaust as the book has become.
The novel, "Through Maria's Eyes," is available for purchase on Amazon at:
http://www.amazon.com/Through-Marias-Eyes-Linda-Sunshine/dp/057806880X
The book is also available on its website, http://www.throughmariaseyes.com.
###