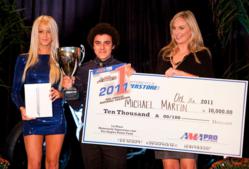 Medford, OR (PRWEB) October 21, 2011
The Motorcycle-Superstore.com AMA Pro Singles Grand National Flat Track 2011 season championship was clinched on Saturday, October 15, at the famous Pomona Half-Mile racetrack. After an intense evening of racing, Michael "Mikey" Martin was awarded with the coveted #1 plate and the title of Motorcycle-Superstore.com AMA Pro Singles champion.
Motorcycle-Superstore.com Pro Singles competitors are eager rising stars, since it is the entry-level class in the AMA Pro Racing flat track series, so rivalry is always intense and spectators were treated to another night of skillful riding and sliding. AMA Pro Racing's 2010 Horizon Award winner Briar Bauman pulled off a first-place finish in the main even at the Pomona Half-Mile, the third win of the season for this promising young rider. Runner up in the points standing, Michael Avila, finished second after trying every trick in the book to pass a scrambling Bauman. Jason Isennock grabbed the final spot on the main event podium after finishing 2.2 seconds behind Avila. Martin finished this final round in sixth position, which was enough to clinch this season's championship.
The $25,000 Motorcycle-Superstore.com Pro Singles Point Fund was awarded at the season finale banquet on Sunday, October 16. The top six riders in the Motorcycle-Superstore.com AMA Pro Singles class were each presented with a portion of the points fund. Champion Mikey Martin was awarded a $10,000 check; Michael Avila who trailed Martin by only 8 points received $5,000; third place Gerit Callies received $4,000; Jason Isennock was awarded $3,000; Jake Shoemaker earned $2,000; and Briar Bauman received a $1,000 check.
Motorcycle-Superstore.com congratulates all of the 2011 Pro Singles contenders for an incredible season of racing. Thanks also to our partners at AMA Pro Racing for another great season of flat track action. Sponsors and fans will eagerly await the start of the next AMA Pro Racing season of Flat Track, where we will see which of this year's Pro Singles riders will be graduating to the Expert class for the 2012 season.
About Motorcycle-Superstore.com:
Motorcycle-Superstore.com is the leading online retailer in the motorcycle and powersports industry. Serving motorcycle riders for over 12 years, Motorcycle-Superstore.com specializes in selling motorcycle helmets, riding apparel, accessories and parts. Internet Retailer Magazine has ranked Motorcycle-Superstore.com in the top 10 of all sporting goods sites and in the top 200 of all e-commerce sites. Powered by a dedicated staff of motorcycle enthusiasts, Motorcycle-Superstore.com continues to impress customers by constantly raising their online shopping standards. Visit http://www.motorcycle-superstore.com.
###