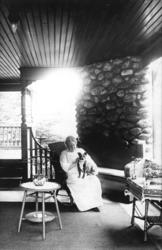 The authors were given unprecedented access to myriad important materials, including correspondence, diaries, and items that once belonged to Lizzie Borden, that lay sequestered in private collections in the United States, Europe, Asia, and Canada.
Fall River, Massachusetts (PRWEB) October 25, 2011
It was the most notorious crime of the nineteenth century: the brutal slayings of Andrew Borden and his second wife, Abby, on August 4, 1892, in Fall River, Massachusetts. Andrew's 32-year-old unmarried daughter Lizzie was quickly accused and tried for the horrific killings, igniting a nationwide media frenzy and spawning a legend that lives on to this day.
A jury acquitted Lizzie Borden, but not the public. She was shunned by Fall River's elite society after her release from jail, and the specter of suspicion relentlessly haunted her for the rest of her days. Cold, unfeeling, and virtually friendless, according to her legend, Lizzie Borden lived a highly private and opaque existence. And despite an enduring public hunger for more information about her, she never revealed herself during her lifetime, and those who knew her best chose to remain silent as well.
Now a groundbreaking study is about to shed new light on the enigmatic Lizzie. Based on nearly a decade of research and a wealth of important new material from private collections around the world, Parallel Lives: A Social History of Lizzie Borden and Her Fall River (Fall River Historical Society, 1,179 pp) provides the first intimate look at Lizzie Borden's private life and the city where she resided.
The book was written for the Fall River Historical Society by its curators, Michael Martins and Dennis A. Binette, both recognized authorities on the Borden case. The Society is home to the largest existing compilation of archival materials and artifacts pertaining to the Borden crime, including a hatchet that the prosecution claimed was the murder weapon, but the book was by no means limited to in-house resources.
After extensive research and persistent global sleuthing, the authors tracked down descendants of some of Lizzie Borden's closest friends and acquaintances, and subsequently were given unprecedented access to myriad important materials pertaining to Lizzie Borden that lay sequestered in private collections in the United States, Canada, Europe and Asia. These materials include photographs, diaries, rare letters and cards, and items that once belonged to Borden. Parallel Lives presents this new material, including 35 previously unpublished pieces of Lizzie Borden's correspondence, among them the only letters known to have been written from her jail cell. Also presented are personal reminiscences of those who knew Lizzie Borden best, and five recently discovered photographs of Borden in her later years, including the only one known to have been taken at her home, Maplecroft.
"Students of the case will immediately recognize that these are new photographs of Lizzie Borden," said Binette. "They are the first new pictures of her to appear in print since 1937."
"Parallel Lives has more new material about Lizzie Borden's private life than all the other books about her, combined. People who have read it tell us that they come away with a completely different view of who she was as a person, that she has been humanized," added Martins. "With perceptions tainted by legend, few perceive her as a warm, dignified, altruistic individual, who was a sincere, trusted confidant to her friends, and the beloved 'Auntie Borden' of several children. She was not the monster that has been fabricated by legend, by people who never knew her personally."
Even Borden's physical appearance has been misrepresented, said Martins. "She is typically portrayed, in her later life, as a peculiar albeit well-heeled recluse, frightening and always dressed in black," he said, "But we have yet to find an image of her that matches that description. In point of fact, the diametric opposite is the case. Ironically, in the five new images we have uncovered she is wearing white."
In addition to the Borden material, the book provides a unique look at the complex social history of Fall River during the nineteenth and early-twentieth centuries, when the city was the largest producer of cotton cloth in the United States. Hailed as the Spindle City, the immensely lucrative textile center generated great wealth while simultaneously creating even greater poverty.
"Parallel Lives presents a detailed study of Fall River high society as well as the first close look at Lizzie Borden," said Martins. "We wanted to take the readers back in time and place Lizzie in her milieu and show them the world in which she lived. This is very much a book for social historians as well as Lizzie Borden buffs."
Historian and author Cara W. Robertson, who wrote the book's foreword, said "Martins and Binette demolish the many legends of Lizzie. What emerges is a fully realized portrait within the dense social web of Victorian Fall River. And what a world it was! Fall River embodied the excesses and privation of the Gilded Age -- all documented in painstaking detail."
Detailed information about the book, including text excerpts and an audio excerpt from one of the letters Lizzie Borden wrote from jail, is available at http://www.lizziebordenparallellives.com. Both a trade edition and a limited collector's edition can be ordered through the site, and copies will also be available for purchase at The Fall River Historical Society after November 21, 2011, the expected publication date.
###