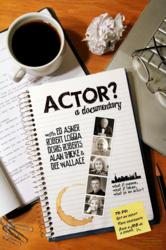 Chandler AZ (PRWEB) October 31, 2011
The actor's life may seem the stuff of red carpets, fawning assistants, and devoted fans, but the reality of what it takes to be a performer is the basis of the upcoming documentary "Actor?: The Documentary." Filmmaker David Rich explores every aspect of the acting life by interviewing thespians at every stage of their career and every level of success. Whether an award-winning actor or an extra in the background of a street scene on a TV series, the actor's life provides a variety of challenges, meanings, and outcomes for the daring souls that feel compelled to reach for one of the most unique professions in the world.
The creative team behind this groundbreaking documentary wanted to give insight and concrete advice from working professionals in industry hot spots like Los Angeles and New York City, as well as lesser known career paths in places like Detroit, Las Vegas and Phoenix.
"Actor?: The Documentary" will take you into the homes and back stories of Emmy-winning icons Ed Asner("Lou Grant") and Doris Roberts ("Everybody Loves Raymond"). Other interviewees include noted actors such as Alan Thicke, Robert Loggia and Dee Wallace, who have crafted long careers mixing TV, film and stage roles. There will also be an exploration of lesser known steps along the acting path as the casting directors of Central Casting, the largest employer of background players in Los Angeles, share their insights from decades of experience in the industry.
One of the most unique aspects of this documentary will be the creative use of animation with live interviews to produce a visually rich presentation of the material. Director Rich, in collaboration with Digital Image Studios in Farmington Hills, MI, , has developed a multifaceted portrait of these life stories using LCD TV screens, projection systems and even smart phone screens to include the human faces behind the anecdotes in the midst of an animated world. The result is both resonant and compelling.
"Actor?: The Documentary" will take you back stage, behind the scenes and around the nation to find the meaning, talents, endurance and surprises of a life in front of the cameras or on the stage. This illuminating and informative documentary will be released in October of 2012.
Visit http://www.http://www.actorthedocumentary.com/ to learn more.
###