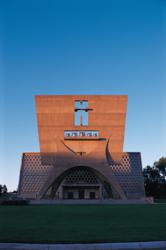 "Architecture Minnesota described the church as "one of the most revered examples of modern religious architecture in the world," in its September/October 2011 issue.
Collegeville, MN (PRWEB) October 20, 2011
The Westminster Cathedral Choir from London will perform at 3 p.m. Sunday, Oct. 23, as part of the 50th anniversary of the Saint John's Abbey and University Church. The concert will also mark the inaugural year of the Institute for Sacred Music at Saint John's.
Under the direction of choral conductor and master of music Martin Baker, Westminster Cathedral Choir is a choir of men and boys and is widely recognized as one of the world's great choirs. Peter Stevens, assistant master of music, will accompany the choir in concert and play the organ solos.
Since its founding in 1903 it has been at the forefront of English church music, not least because of the ground-breaking work of its first master of music, Richard Terry, who revived the great works of the English and continental Renaissance composers.
The choir continues to reach new audiences through its series of acclaimed recordings on the Hyperion label. In 1998 the choir was awarded the Gramophone Awards for "Best Choral Recording of the Year" and "Record of the Year" for the performance of Frank Martin's Messe and Pizzetti's Requiem.
The choir has a history of commissioning and performing new music, is featured frequently on radio and television and recent international tours have included Hungary, Norway, Germany, Belgium, Italy and the United States. The last U.S. tour was in 2006.
The purpose of the Institute for Sacred Music at Saint John's is to preserve the heritage of sacred music and foster its further development for use in liturgy and concert, building on Saint John's Catholic and Benedictine musical traditions in an ecumenical spirit.
The Saint John's Abbey and University Church was designed by the Hungarian architect and former member of the Bauhaus, Marcel Breuer. Construction of the church lasted from May 19, 1958, to Aug. 24, 1961.
Tickets are $20 adults, $15 seniors and CSB/SJU faculty and staff, $10 students. They can be purchased by calling 320-363-5777 or online at http://www.csbsju.edu/ISM.htm.
The concert is sponsored by Saint John's Abbey, Saint John's University, Larry & Andrea McGough, Parsons Electric, Cold Spring Granite, Holtkamp Organ Company and TerHaar Stained Glass Studio
# # #