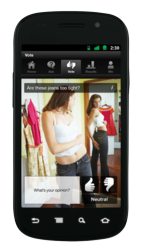 New York, NY (PRWEB) October 20, 2011
Mobile question-and-answer company Opinionaided today announces that its popular app is now available on Android phones. The launch will continue to grow the company's highly engaged user base, which spends an average of over two and a half hours using the app each month.
Opinionaided is the fastest way to share and receive opinions and advice. On average, responses start to arrive only six seconds after being shared and users receive between 50 and 100 responses overall. The company is finding that its user base consists of people who are augmenting their traditional social networks, such as Twitter and Facebook, with its opinion-based community to get unbiased, honest feedback in real-time.
How it works:
1. Anyone can download the free Opinionaided Android app from the Android Market to start asking and answering questions in a variety of categories, such as relationships, sports, politics, fashion and technology.
2. To get advice users simply enter the question, choose an associated image from their phone or the Web, pick the best category and submit. Types of questions users are asking include: "Are these shoes appropriate for an interview?" "What do you think of this photo I took on vacation?" "Should I join the army?"
3. After a question is posted, other people can respond with thumbs up, thumbs down or a neutral response. Users also have the option of adding a comment to clarify or add more detail. To reward good feedback, the Opinionaided community can give gold stars to their peers, and those with a history of providing great advice become top advisors on that topic.
4. Seconds after asking a question results are provided in real-time to the user. Feedback is broken-down by the percentage of those who responded positively or negatively, and a separate list of all user comments. While the full comments are private to the person seeking advice, everyone sees the current thumbs up and thumbs down percentages after they answer a question.
"We're thrilled that Android users worldwide now have the ability to join the Opinionaided community," said Dan Kurani, CEO of Opinionaided. "What is most significant to us is that we are creating a social utility based on helping others, with little judgment or bias. By adding the Android app, we are able to cultivate a larger and more inclusive community of mobile users."
Opinionaided is available now for free on:
Android: http://www.androidlaunch.opinionaided.com/
iOS: http://opn.io/qkf1OO
About Opinionaided
Opinionaided is a free application that allows consumers to use their iPhone, iPod Touch, and Android device to give and receive advice and opinions in real-time. Users can also experience Opinionaided at http://opinionaided.com/ with more platforms coming soon.
###