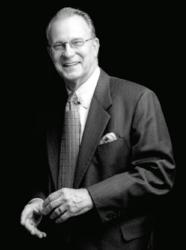 Keith LaFerriere is part of the cadre of unsung AAFPRS heroes
Springfield, MO (PRWEB) October 24, 2011
The American Academy of Facial Plastic and Reconstructive Surgery (AAFPRS) has awarded Dr. Keith LaFerriere the 2011 Larry D. Schoenrock Award for Distinguished Service. The award was presented last month during the AAFPRS Fall Meeting in San Francisco.
The AAFPRS grants the award annually to an individual who has made significant contributions to the facial plastic surgery program and its support within the specialty, organized medicine, and state legislative and regulatory boards.
Dr. LaFerriere has been involved with the AAFPRS and the American Board of Facial Plastic and Reconstructive Surgery (ABFPRS) for years. "Keith LaFerriere is part of the cadre of unsung AAFPRS heroes who devote an incredible amount of time every year to ensure that examination questions are reviewed and revised to meet rigorous psychometric standards," says Ira D. Papel, MD, ABFPRS president. "For the past seven years, this has been Keith's way of cementing the Board's reputation as the gold standard of certification for facial plastic surgeons—a cause that Larry Schoenrock proudly championed."
LaFerriere was elected to the ABFPRS Board of Directors and has served as an examiner for 13 years. He also served as President of the AAFPRS in 2003-2004 and has been a fellowship director with Dr. Gregory Renner since 1995. In addition, he has served on the board of the International Federation of Facial Plastic Surgery Societies (IFFPSS) for the past eight years and has been involved in the development of its certification process and has served as mentor to international colleagues pursuing this new credential.
In addition to his work for the ABFPRS, the AAFPRS, and the IFFPSS, LaFerriere has also represented the specialty with his appointment to the Missouri Board of Healing Arts, the state's licensing and disciplinary board for physicians.
###