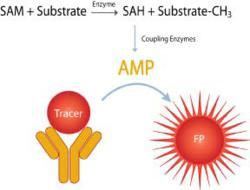 Madison, WI (PRWEB) October 24, 2011
BellBrook Labs developed the EPIGEN Methyltransferase Assay earlier this year to enable screening for inhibitors of methyltransferases (MTs), a family of chromatin modifying enzymes that has recently become the focus of intense drug discovery efforts. Although other MT assay methods were available, none of them had the right combination of HTS compatibility and broad applicability for MTs, which modify diverse cellular targets including histones, DNA, and hormones. The BellBrook team leveraged their extensively validated Transcreener® HTS Assay Platform to detect S-adenosylhomocysteine, the common by-product of all MT reactions. The development of the assay, its use for detection of several histone and DNA methyltransferases enzymes, and its validation for screening small molecule libraries is described in a publication entitled, "Development and Validation of a Generic Fluorescent Methyltransferase Activity Assay Based on the Transcreener AMP/GMP Assay," in the Journal of Biomolecular Screening. Collaborators at the Novartis Institute of Biomedical Research in Basel, Switzerland played a key role in validating the assay by screening an 8,800 compound library for inhibitors of a histone methyltransferases being targeted for cancer.
The EPIGEN Methyltransferase Assay is a homogenous, mix-and-read assay that yields a robust fluorescence signal even with very low MT enzyme and SAM concentrations and provides the outstanding deck and signal stability that BellBrook's Transcreener® Assays are known for. Additional EPIGEN assays are under development at BellBrook for other epigenetic enzymes including acetyltransferases.
About BellBrook Labs. BellBrook Labs, LLC develops detection reagents and microfluidic devices that accelerate the discovery of more effective therapies for cancer and other debilitating diseases. Transcreener® is a patented high throughput screening assay platform used to identify inhibitors for kinases, ATPases, GTPases, phosphodiesterases, and many other types of enzyme drug targets. The iuvo™ Microconduit Array technology is a line of unique microscale devices for miniaturization and automation of advanced cell models that are more representative of human physiology. Visit BellBrook's website for more information: http://www.bellbrooklabs.com.
###