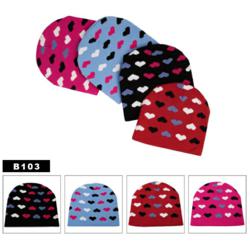 "We're really excited about these beanies, and just in time for winter," says Jeni Bachelder
Salem, OR (PRWEB) October 25, 2011
Wholesale Discount Sunglasses.com is happy to announce a new line to their wholesale cap collection, stylish wholesale beanies. The new line of beanies come in 13 different fashionable styles and are made of 100% polyester.
Wholesale Discount Sunglasses.com is the direct manufacturer and importer of wholesale sunglasses, accessories and other wholesale items, such as their new line of beanies.
Starting as low as $12.00 per dozen, the 13 different styles of beanies also come with additional discounts on volume orders. For orders greater than $500 a 10% discount is automatically applied on time of checkout. For orders over $1000 purchasers will receive a 15% discount, and orders $2000 and above will receive a 20% discount.
With their wholesale prices and unique volume discounting, Wholesale Discount Sunglasses is the top choice for retailers looking to make some additional sales with a unique item. "We're really excited about these beanies, and just in time for winter," says Jeni Bachelder of Wholesale Discount Sunglasses. "With the current thirteen styles we now offer, there is something for everyone. They're bound to be a big hit, especially with the kids."
Nearing 30 years of experience, Wholesale Discount Sunglasses manufactures high quality eyewear and accessories, making their products available to retailers around the country.
"Not only do we have a lot of experience in manufacturing and importing sunglasses and accessories, but we also posses a great deal of experience in the retail sales of sunglasses and accessories as well," explains Bachelder. "Because of this, our goal is to ensure that our customers receive not only the most fashionable styles available, but are able to purchase our products at the most competitive wholesale prices as well."
In order to remain competitive in their pricing and up-to-date in their product lines, Wholesale Discount Sunglasses are continually updating their products to keep in line with the ever changing fashion styles, while at the same time making adjustments to better match the changes in the global economy.
###