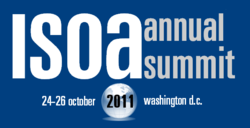 Washington, DC (PRWEB) October 20, 2011
ISOA members and staff are busy preparing for the 2011 Annual Summit of the Stability Operations Industry, which kicks off next Monday with a networking lunch at the Ronald Reagan Building and International Trade Center. Register now to reserve your spot.
The Annual Summit is indispensible to any organization working in stability operations, and includes insights on timely issues facing the industry, networking opportunities, a summit dinner and an exhibition hall.
This year's speaker line-up includes keynote addresses by Jack Straw, UK Foreign Secretary under Prime Minister Tony Blair, Ike Skelton, former long-time Chair of the House Armed Services Committee and Lt. Gen. Robert Van Antwerp, Former Commanding General of the U.S. Army Corps of Engineers. Additional speakers include Michael Thibault, Co-Chair of the Commission on Wartime Contracting, Ambassador Eric Edelman, Former Under Secretary of Defense for Policy and Ambassador David T. Johnson, Former Assistant Secretary of State for International Narcotics and Law Enforcement Affairs.
Registration is still open and exhibition spaces are still available. Registration packages and a current list of registered attendees are available on the event website at http://www.stability-operations.org/summit2011.
On-site registration at the Ronald Reagan Building begins at 11:30 AM on Monday, 24 October. Single day and single event tickets are also available.
The ISOA Summit is generously sponsored by Mission Essential Personnel, Dyncorp International, SOC, LLC, Triple Canopy, Crowell & Moring, L-3 MPRI, PAE, Inc., Olive Group, EOD Technology and OnSite Occupational Health Services.
Summit sponsorships and exhibitor spaces are still available and can be found on the event website, or requested from Melissa Sabin at msabin(at)stability-operations(dot)org.
About ISOA
ISOA is the international trade association of the stability operations industry, promoting ethics and standards worldwide and advocating for effective utilization of private sector services. ISOA members are leaders in the industry and are supported by ISOA's outreach, education and government affairs initiatives.
# # #