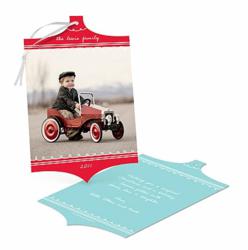 These cards are so stylish and memorable, you will find them proudly displayed on family and friends' mantels. Now that's leaving an impression!
Mankato, MN (PRWEB) October 24, 2011
Every holiday season, individuals, couples and families start the hunt for unique and memorable Christmas cards to send to loved ones. The ideal card allows them to share a warm message, showcases their personal style and leaves a lasting impression on family and friends, but it's often difficult to find just the right card.
Pear Tree Greetings has incorporated all the latest trends in its just-released 2011 Holiday Collection, making it possible to avoid spending countless hours searching for the perfect Christmas or Hanukkah card in a particular style or color. The season's most cheerful colors and patterns, unique shapes and vintage touches are represented in the Collection.
"Whether someone is looking to catch attention with a bold pattern or deliver a nostalgic feeling with Polaroid-style photos, Pear Tree can help them create a one of a kind Christmas card with the wide range of designs in our 2011 Holiday Collection," said Angela Ferrara, director of product development for Pear Tree Greetings. "We've even incorporated tonal textures and shapes that deliver a "wow" factor. Why shop for holiday cards anywhere else?"
Shopping is not only convenient on Pear Tree's website, but it's also fun for people to find just the right customizable greeting card to suit their tastes.
The Holiday Collection boasts artistic designs with hand-sketched elements and introduces fresh, modern Christmas colors such as purple and green. Regardless of one's style, there's a Christmas card to fit their personality.
"Pear Tree has the pulse of up-and-coming trends. More importantly, we know our customers – and we know the options they're looking for in a holiday card that truly reflects their individuality," said Ferrara. "These cards are so stylish and memorable - destined to be the centerpiece in any collection of holiday cards on a mantel. Now that's leaving an impression!"
About Pear Tree Greetings
Pear Tree Greetings celebrates life's sharable moments with its unique collection of personalized, high-quality greetings and stationery made with 100-pound matte-finish card stock. With hundreds of designs for every occasion, available for purchase online for any budget, Pear Tree inspires people to stay connected with friends and loved ones. Learn more about Pear Tree Greetings and the new Holiday Cards collection here.
###