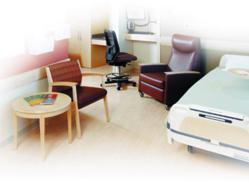 Finally, healthcare facilities have a source for affordable furniture through NBF.
Milwaukee, Wisconsin (PRWEB) October 25, 2011
To better meet the needs of the growing healthcare industry, National Business Furniture (NBF) has expanded its product offering to include a wide range of furniture specifically suited to clinics, hospitals and specialty-care facilities. NBF, which has been a leading provider of well-made, affordable furniture to businesses and institutions for over 35 years, is now expanding its well-known service and selection into the healthcare market.
According to Randy Farah, Vice President of Merchandising, NBF already has a well-established foothold in the healthcare market; providing hospitals and clinics with furniture from their standard business offerings: office desks and chairs, reception seating, conference and training room furniture, breakroom furniture, filing, storage and accessories.
"The healthcare category has been a good one for us all along, but customers wanted a wider selection of products. We've added more exam and patient room products and accessories to meet their needs," said Farah. Farah worked closely with contacts in the healthcare field to identify respected manufacturers and products that are useful to the industry. He added several new product categories to the NBF offering: patient and exam room furniture, bariatric seating, carts, and accessories.
Furniture and equipment specific to healthcare facilities will be available through the NBF catalog, NBF.com, and outside sales channels. "NBF can provide a unique value proposition that is currently lacking in the healthcare market," said Dean Stier, Vice President of Marketing, "Finally, healthcare facilities have a source for affordable furniture through NBF."
NBF offers free consultation and space planning services by experienced design teams; an excellent benefit for facilities that want to update and improve patient care. While NBF is no stranger to new construction and large furniture installations, it also welcomes the opportunity to serve smaller facilities and projects with limited budgets.
About National Business Furniture
National Business Furniture was founded in 1975 as a provider of office furniture for corporate offices, small businesses and government agencies. Since then, NBF has expanded into the school, church and home office markets through three catalog brands, multiple websites and an experienced sales team.
In 2006, NBF was acquired by K+K America, LLC, the leading group of business-to-business direct marketing companies in North America. NBF's family of brands include: National Business Furniture, OfficeFurniture.com, OfficeChairs.com, Alfax Wholesale Furniture and Dallas Midwest.
For a free catalog, or to browse the complete selection of office furniture such as desks, chairs, file cabinets, bookcases and reception furniture, go to http://www.NBF.com.
###