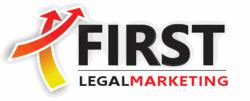 (PRWEB) October 21, 2011
First Legal Marketing is proud to introduce their new series of exclusive attorney network websites to help attorneys rapidly and effectively market their services online. These websites were produced to provide a complete turn-key website offering with a number of advantages over traditional attorney websites including:

Professional appearance and design for higher conversions
Embedded analytics and client tracking capabilities
Fully search engine optimized design and content
Exclusive networking and authority building
Local and practice area optimization services
"Up until now, many attorneys have found marketing their services online to either be too expensive or complicated to effectively promote themselves online," said Steve Glassen of First Legal Marketing. "With our new exclusive network of pre-built attorney websites, all attorneys can now effectively and affordably market their practices online and get started within a matter of days."
First Legal Marketing's network of attorney websites includes both practice area specific websites as well as the more common practice area attorney websites. The first series of turn-key websites provides pre-designed and fully optimized lawyer websites for the following practice area attorneys:
Employment Lawyers
Traffic Ticket lawyers
Criminal Defense Lawyers
Bankruptcy Lawyers
And many more…
With prices starting at just $99 per month, there is no reason why any attorney cannot benefit from First Legal Marketing's new exclusive network of attorney websites. "One of the most common complaints we hear from attorneys is the need to find a single legal website provider that is experienced, effective and affordable," said Glassen. "Our websites combine the highest levels of lawyer SEO, legal content creation and design to provide the biggest bank for our client's marketing dollars."
Frequently Asked Questions about this service:
Question: What If We Already Have A Website?
Answer: Most of First Legal Marketing's clients already have a website before working with them. Depending on the quality of an existing website, clients can either replace their current website or simply add one of First Legal Marketing's additional websites to their marketing effort. Many successful law firms have multiple websites online to help generate new cases and clients.
Question: Why Should We Have A Targeted Legal Website?
Answer: Most lawyers have one website that conveys all of their practice areas together. The problem has to do with how the website is indexed and ranked in the search engines like Google and how prospective clients will compare a website to others they are considering. With a targeted legal website, our clients can now better highlight one or more of their specific practice areas and create the highest visibility in the search engines for prospective clients looking for attorneys with their desired focus and expertise.
About First Legal Marketing
First Legal Marketing was founded by top law firm internet marketing specialists for one simply goal: provide the best law firm internet marketing in the industry. First Legal Marketing's services range from their exclusive fully optimized network of attorney websites to their Market Master Websites that are designed for maximum visibility and results. Whether you are an attorney just starting out or want to reach the highest positions possible on the search engines for maximum client generation, First Legal Marketing has you covered.
If you are a lawyer in need of more clients, contact First Legal Marketing today at 888-255-4412 or visit our website at FirstLegalMarketing.com today to see how we can help you to.
###