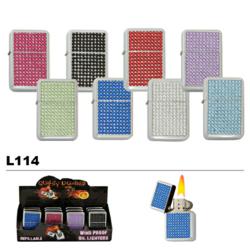 —These new oil lighters…have replaceable wicks and flints, but they are also both refillable and wind resistant.
Salem, Oregon (PRWEB) October 28, 2011
Wholesale Sunglass USA.com is thrilled to offer a new addition to their wholesale product line with the inclusion of wholesale lighters and graphic caps and hats. The latest line of merchandise is a great addition to their current line of quality sunglasses that is currently available to resellers at wholesale prices.
Caps and hats come in a wide range of styles and colors, with prices to better suit resellers' individual needs. Styles range from baseball caps, which feature adjustable Velcro backing for that perfect fit, starting at just $2.75 a piece. Wholesale Sunglass USA also offers wholesale animal hats that start at $3.25 a piece and beanie hats that start at $25.00 per dozen.
The other addition to Wholesale Sunglass USA's product line is the wide selection of wholesale oil lighters, with prices ranging from $13.00 and up per dozen. These new oil lighters, finished in high polish chrome, brushed chrome, brass, plain black and stainless steel, not only have replaceable wicks and flints, but they are also both refillable and wind resistant. There is also a variety of wholesale novelty lighters available, from jumbo sized to lighters covered in rhinestones, and everything in between.
Not only does Wholesale Sunglass USA offer high quality products for resale at the lowest prices possible, but there are also additional volume discounts that can be included on top of the already great prices. For purchases between $500 and $999, customers will automatically receive an additional 10% off of their order. The discount raises to %15 when orders are $1000 - $1999, and for orders $2000 and above the volume discount raises to %20.
Wholesale Sunglass USA has over 25 years of experience in the sunglasses business, both in wholesale and retail. As the manufacturer and importer of sunglasses and other merchandising they are able to offer resellers the best quality products and the lowest possible prices. In order to stay fresh they are continually updating their product lines with new styles and designs.
###