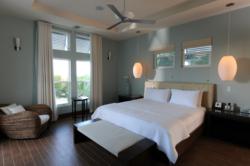 Grand Cayman (PRWEB) October 24, 2011
Now offering, taste the privilege of private-island hospitality at breezy Cotton Tree—the Cayman Islands' first boutique cottage hotel boasting authentic Caymanian character, bungalow charm and luxurious modern conveniences—where white tablecloth service meets barefoot elegance, courtesy of in-house personal chef services from award-winning toque, Elizabeth Campbell.
Known for her organic Caribbean fare and artful presentation, Chef Liz, who received formal culinary training in Jamaica, comes to Cotton Tree with numerous accolades after successful stints at Silver Sands Estate, a collection of upscale villas, and Jamaica's premier private resort, The Tryall Club, where she was recognized as one of its top chefs. It was here that Cotton Tree owner and Caribbean native Heather Lockington, who has a passion for gourmet gastronomy, first sampled the chef's cuisine—and hired her on the spot to oversee the culinary concept at her plantation-era oasis. Also certified in waitering and formally educated in the art of food and beverage, Chef Liz approaches hospitality at Cotton Tree with the same concierge-based culinary philosophy she used to great acclaim in the prestigious kitchens of the aforementioned locales as well as those for both local and international clients.
At Cotton Tree, Chef Liz's dining experiences featuring specially tailored menus that can be customized for any occasion, from a poolside lunch or breakfast in bed to an interactive cooking demo or Caymanian Caboose Cook-out—an authentic Caribbean fish fry or barbecue. Meals are prepared in the privacy of guests' own cottages and served indoors or outdoors. (Rates for personal chef services start at US $160; gratuities not included and 24-hour notice is required.)
Guests can also order savory local edibles off three different In-Dining menus, all featuring regional staples such as Pan-Seared Cayman Style Snapper with fresh roasted local veggies, Salt Fish Fritters on Toasted Coconut Bread Squares, and Baked Pork Chops with a Root Ginger Sauce and Saffron Seasoned Rice. A special vegetarian menu is also available. (Rates for In-Dining start at US $35 per person.)
Rates for all culinary services are in addition to the standard cost of accommodation at Cotton Tree, a scattering of exquisitely-appointed, pastel-hued beachfront cottages fashioned to reflect authentic Grand Cayman. Surrounded by lush gardens and fruit trees, and located just steps from Cayman's celebrated white-sand shorelines, Cotton Tree is a private hideaway in proximity to the best of its home island, but world's removed from its high-traffic areas. Each amenity-rich cottage is bestowed with chic living spaces, gourmet kitchens, spa bathrooms, plasma TVs, and Wi-Fi. Cotton Tree also boasts personalized concierge service, its own sommelier and chef; proximity to fine dining, shopping, and site-seeing attractions; a media library of books, music and DVDs; the choice of pre-stocked breakfast food items (a selection of coffees and teas, juices, eggs, cereal, milk) or a continental breakfast delivered daily; fresh fruit; bicycles, and roundtrip airport transfers.
For rates and information, visit http://www.caymancottontree.com
About Cotton Tree:
The Cayman Islands' new luxury hideaway, Cotton Tree, on the northernmost point of Grand Cayman (just 10 minutes from the famed Seven Mile Beach), beautifully evokes the spirit of the Cayman Islands with its pastel-hued, plantation-style cottages just steps from the Caribbean Sea and lush garden setting of tropical flowers and avocado, guava, mango and cotton trees for which the hotel was named. Owner Heather Lockington, a global traveler who was born in the Cayman Islands, built her dream property in West Bay, creating an authentic haven where guests could embrace Caymanian heritage. Four 1,600 square foot two-bedroom beachfront cottages resemble fully equipped houses featuring "Caribbean chic" décor, classic contemporary furnishings, French doors overlooking the sea, plasma TVs, state-of-the-art Kitchen Aid appliances, and more. Additional amenities include a freshwater swimming pool, fitness center and yoga and spa pavilions nestled among seagrape trees, perfect for a sunset massage. A personal chef can whip up gourmet meals accompanied by wines chosen by a sommelier, or Cotton Tree is a quick drive to Grand Cayman's best restaurants. Hotel services such as a reception/concierge, bellhop, housekeeping and turndown on request are also featured.
###