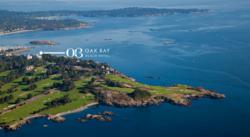 "Purchasing one of these waterfront condos in Oak Bay is an excellent investment move, considering the superior construction quality and oceanfront location."
Victoria, BC (PRWEB) October 26, 2011
The owners and developers of Victoria's Oak Bay Beach Hotel have launched phase three of their development rewarding the first 10 buyers of the new, 25-unit phase with a guaranteed a 3.9 per cent annual return of their investment – nearly doubling the hotels typical, 2 per cent, triple-net return rate on vacation hotel suites. The phase three units range from $379,000 to $1.1M and include studios, junior suites and one-bedroom suites, measuring between 450 and 750 square feet.
"Purchasing one of these waterfront condos in Oak Bay is an excellent investment move, considering the superior construction quality and oceanfront location," said Brad Neufeld, director of sales for the Oak Bay Beach Hotel. Neufeld went on to say that the purchase of a 750-square-foot downtown condo in Victoria, BC would yield an average annual return of only 2 per cent, factoring all the extra costs that come along with traditional real estate investment properties. We're offering twice that!"
"We're responding to the tough market with a number of innovative selling tactics, such as the 100 per cent buyback guarantee we introduced last spring or this new 3.9 per cent annual return," said Kevin Walker, owner and developer of the Oak Bay Beach Hotel. He concluded by saying that, from what our buyers tell us, we're on the right track. The developer has successfully sold out of all phase one and two revenue-generating waterfront vacation hotel suites near Victoria, BC.
The new Oak Bay Beach Hotel vacation suites come fully furnished and are available in a variety of floor plans and layouts. Owners do not have to pay expenses typically associated with vacation properties (such as strata fees, maintenance expenses and property taxes) and have personal access to their suite for up to four months per calendar year.
Upon opening in May 2012, the luxury oceanside hotel will contain a total of 20 private residences and 100 vacation hotel suites; a full-service spa and seaside mineral pools; a cozy pub, gourmet restaurant and dinner theatre program; and round-the-clock butler, concierge and valet services. The $52M rebuild project first broke ground in 2009, three years after the hotel's 80-year-old namesake was deemed beyond repair.
Paying homage to the original hotel, owners Kevin and Shawna Walker preserved a number of materials to be used in the rebuild, including windows, beams, bricks and furniture. And in addition to becoming Victoria's first luxury hotel and spa with private residences, the hotel is also being built to LEED Gold Certified standards.
For more information about purchasing a vacation hotel suite at the Oak Bay Beach Hotel, visit http://www.oakbaycondos.com or call 1-800-668-7758.
About the Oak Bay Beach Hotel
The new Oak Bay Beach Hotel is being completely rebuilt on the same spectacular oceanfront near Victoria BC where the previous hotel sat for over 80 years. It will reopen as a 100-room hotel with 20 luxury residences and vacation hotel suites in 2012. Built to five star standards, hotel and residential amenities include a seaside therapeutic mineral pool, a fitness centre, spa, dinner theatre program and fine-dining restaurant. Not only is this Victoria's first combination full-service luxury hotel and private residence, it is also the only commercial waterfront investment property in Oak Bay.
Media Contacts:
Brian Cant, Tartan Group: 250-592-3838 or brian(at)tartangroup(dot)ca
Deirdre Campbell, Tartan Group: 250-592-3838, 250-882-9199 (cell) or deirdre(at)tartangroup(dot)ca
###