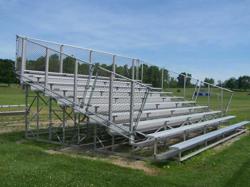 As a spectator, it's reassuring to know that as I'm enjoying watching my favorite team, I don't have to worry about the safety of the bleachers I'm seated on. - A.J.Smith
Lexington, VA (PRWEB) October 20, 2011
Each year thousands of people, many of them young children, are seriously injured or killed in falls from bleachers. ParknPool, an internet based supplier of commercial site amenities including bleachers and grandstands, has added a printable "Bleacher Safety Guide," as well as a video to their website. The guide and video highlight certain guidelines put in place to ensure all bleachers are as safe as possible.
Falls from bleachers typically occur when guardrails are missing from the back or sides of bleachers, but can also ensue when there are openings between bleacher seating and footboards that are big enough to allow a person through. Many bleachers in facilities today pose a fall hazard, especially to children, due to the fact that these bleachers may have been built and installed when the building codes did not require guardrails and allowed openings that were big enough for a child to fit through. ParknPool's "Bleacher Safety Guide" and video focus on the steps that should be taken to make sure bleacher guardrails and openings meet all safety specifications.
ParknPool knows that budgets can be tight, so if retrofitting rather than replacing an existing set of bleachers is more feasible, the current condition and structure of your bleachers will determine the materials and methods needed for the retrofit. The safety guide and video emphasize that it is imperative to ensure that the methods and materials used do not introduce the possibility of new hazards such as bleacher tip-over, bleacher collapse, guardrail collapse, and tripping hazards. ParknPool recommends that you consult with your local building officials to determine whether a permit is required to make any retrofit changes to your existing bleachers.
Where practical, features such as aisles, handrails and surfacing should be incorporated into any retrofit project. Rigid materials, such as aluminum, should be used to close any openings between the seating and footboards. Chain link or fencing material can introduce potential trip hazards, allow debris to collect under the seats that is not easy to remove, and encourage children to play or hang on it.
Whether you choose to retrofit your current aluminum bleachers or order replacement ones, they should be carefully inspected at least once a quarter to identify any damage to the structure or disrepair that could result in injury or death. A licensed engineer, registered architect, or qualified company should inspect your bleachers at least every two years to ensure they are fit for use. Adding a "Bleacher Safety Guide" and video to their website was a top priority for ParknPool because no one's safety is worth taking a risk by leaving outdated bleachers in place.
About ParknPool Corporation:
ParknPool is a Veteran Owned SBE/WBE Company and is the leading online supplier of commercial outdoor furniture and site amenities such as picnic tables, trash receptacles, park benches and bleachers. ParknPool was begun in 1998 in Orlando, FL and moved their headquarters to Lexington, VA in 20055.
###