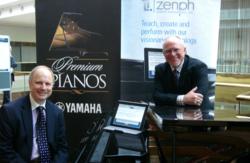 "...Zenph is unparalleled when it comes to developing software that unleashes the power of our instrument's interactive and distance-learning capabilities," said Jim Levesque, Disklavier Marketing Manager, Yamaha Corporation of America.
Buena Park, CA and Research Triangle, NC (PRWEB) October 21, 2011
Yamaha Corporation of America and Zenph Sound Innovations, Inc. today announced that they have entered into a strategic partnership to showcase the unlimited potential of the world's most-advanced reproducing piano: The Yamaha Disklavier.
The announcement was made at the annual CMS-ATMI Conference held on October 20th in Richmond, Virginia.
Beginning this fall, Yamaha will bundle its Disklavier and Disklavier PRO models with Mac and Windows versions of groundbreaking Zenph software products:

Home Concert Xtreme™: an award-winning, interactive learning and performing environment that provides intelligent accompaniment that actually follows the soloist—slowing down, speeding up and getting softer and louder in a musically-coordinated fashion.
RePerform: a piano-focused MIDI editor that works with files from all models of Yamaha Disklavier and Disklavier PRO pianos. Unlike typical MIDI editing software, RePerform enables high-resolution editing and is the first commercial product that understands the musical nuances of the highly complex and interwoven MIDI files produced by the Disklavier PRO.
Internet MIDI™: a software program that connects two Disklaviers or other MIDI instruments over the Internet for real-time teaching and performance.
The Zenph software integrates seamlessly with the core Disklavier technology, providing general consumers, as well as academic institutions, unprecedented interactive and distance-learning capabilities from the piano.
"The Disklavier has earned a solid reputation as both a fine instrument and technological marvel over the years," said Jim Levesque, Disklavier Marketing Manager, Yamaha Corporation of America. "At the same time, Zenph is unparalleled when it comes to developing software that unleashes the power of our instrument's interactive and distance-learning capabilities. Yamaha is intrigued by the possibilities afforded by this new partnership."
"Zenph has been one of the most vocal industry advocates of the groundbreaking Disklavier PRO and Disklavier lines," added John Q. Walker, CEO and Founder, Zenph Sound Innovations. "Our commitment to these technologically-superior instruments is demonstrated by our use of them to create award-winning re-performances. Our RePerform software, for example, was developed to let users take advantage of the Disklavier PRO's nuanced capabilities as well as work with MIDI files from any Disklavier – including the ability to up-convert and down-convert. This agreement is just the tip of the iceberg. We look forward to greater product development and marketing collaboration with Yamaha as we work towards revolutionizing the way music is taught, practiced, and performed."
Piano of Unlimited Potential
The Disklavier is a modern day computerized "reproducing" piano that was first introduced in the United States in 1987. The instrument incorporates a system of solenoids (powerful magnets) and optical sensors connected via LEDs that make the keys and pedals move up and down, recreating a performance.
According to Levesque, the Disklavier has come to represent the pinnacle of reproducing piano technology, and, for the past consecutive 10 years, has taken the top honor of "Product of the Year" in the Musical Merchandise Review (MMR) Magazine Dealer's Choice Awards. It was bestowed with the Frances Clark Keyboard Pedagogy Award in 2006, an award that was also presented to Zenph's Home Concert Xtreme software in 2010.
John Q. Walker and the Zenph team saw the potential of the instrument early on. For the past 8 years, he and his entrepreneurial company have pioneered a fundamentally new method of encoding music as performance data rather than audio, which the Yamaha Disklavier PRO can play back meticulously, enabling new "re-performances" of audio recordings.
Most recently, the company has accelerated development of its interactive and distance-learning software for consumers and institutions, made possible in large part through the company's acquisition of TimeWarp Technologies and the addition of that company's CEO, George Litterst to the Zenph team as Chief Creative Officer and CTO.
The Disklavier/Zenph bundle also includes three high-quality Zenph piano concerto files. These files contain orchestral accompaniments designed for Zenph's award-winning score-following program. Pianists at all levels of proficiency can 'play along' with Home Concert Xtreme as they learn, practice or perform music. In addition, the Disklavier/Zenph bundle includes 200 example MIDI files from Zenph's publishing partners, electronic user manuals, and support videos.
For more information about the Yamaha Corporation of America/Zenph partnership or software bundle, please contact Yamaha Corporation of America at (714) 522-9011 and Zenph Sound Innovations at (919) 899-9289.
About Yamaha Corporation of America
Yamaha Corporation of America is the largest subsidiary of Yamaha Corporation, Japan and offers a full line of musical instruments and sound reinforcement products to the U.S. market. Products include: acoustic and digital pianos, portable keyboards, guitars, acoustic and electronic drums, band and orchestral instruments, marching percussion products, synthesizers, professional digital and analog audio products, and innovative technology products targeted to the hobbyist, education, worship, professional music, and installation markets.
About Zenph Sound Innovations
Zenph creates revolutionary technology that opens new possibilities for music listening and interaction. The company has developed a fundamentally new method of encoding music as performance data rather than audio. This performance data is easily transformed in a number of ways, enabling users of Zenph products – professionals, hobbyists, students, and listeners – to participate in compelling, interactive musical experiences. The company's re-performance® process was called "a technological miracle" by The Wall Street Journal and one of the "Best Ideas of the Year" by The New York Times Magazine. Zenph's recordings have received multiple GRAMMY® nominations, and its Rachmaninoff Plays Rachmaninoff album on Sony Masterworks was described by the editor of Stereophile Magazine as "perhaps the finest piano recording I have heard."
###