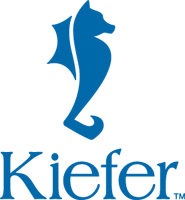 Together we will cultivate a renewed Kiefer — one that is steadfast in its commitment to its customers, products, services, and industry.
Zion, IL (PRWEB) October 21, 2011
On September 29, 2011 Adolph Kiefer & Associates (Kiefer) was acquired by The Randolph Group, Inc., a private investment firm that practices a "Buy, Build, and Hold" business philosophy. The new ownership will provide the Midwest based swimming supply company financial and operational expertise to accelerate growth of the Kiefer brand and business.
Founded in 1947 by Olympic gold medal champion swimmer Adolph Kiefer, Kiefer has been a leader in the swimming and water safety industry for many years. In 2011 at the age of 93, Mr. Kiefer decided to look toward retirement and find a buyer that would share his vision and passion for the company.
Mr. Kiefer wanted a buyer who knew the value of the Kiefer brand and had the resources to accelerate the growth of the company, which had slowed due to the downturn in the economy. In turn, Kiefer met the Randolph Group's acquisition criteria. Kiefer holds a strong name in a defensible niche with exponential growth potential. After several months of careful analysis and negotiation, the parties concurred and the sale was made.
During negotiations, The Randolph Group retained Al Irzyk to examine Kiefer's operations and advise the investor. Under the new ownership, Mr. Irzyk is serving as President and CEO of Kiefer and has developed plans to lead the company to long-term strength, stability, and success. Mr. Irzyk is a graduate of the United States Military Academy at West Point and following his time in the service held positions at Procter & Gamble, Frito Lay, Rand McNally and most recently as President of JDK Management Company.
According to Mr. Irzyk, "The new leadership values the brand, customers, experience and passion within Kiefer. We are building on the company's talent, traditions and market while providing resources to expand Kiefer's product line and market share. Together we will cultivate a renewed Kiefer- one that is steadfast in its commitment to its customers, products, services, and industry."
The company's first priority is to improve the customer experience by improving product availability and expediting order processing. In addition, Kiefer is developing new Kiefer brand products that stress quality, value and competitive pricing.
Although Kiefer is making significant changes, its fundamental strengths will remain, including the Kiefer brand and company name. Customers can continue to shop Kiefer through the online store, direct mail catalog, and two retail swim stores in Zion and Glenview, IL. Members of the Kiefer family will play an integral part in the future of the company. Furthermore, Mr. Kiefer himself will continue to promote the company and support the swimming community. His role will include event and media appearances and, of course, inspiring young athletes to pursue their dreams. When asked about the company's future, he beamed, "With the new leadership and support, the possibilities are endless. Not only will we raise customer expectations, we will exceed them."
Kiefer looks forward to celebrating its 65th Anniversary in 2012.
About Adolph Kiefer & Associates:
Gold medalist Olympic swimmer Adolph Kiefer founded Adolph Kiefer & Associates in 1947. As the official aquatics supplier to the 1948 U.S. Olympic Swim Team, the company introduced the first nylon swimsuit as a lightweight alternative to wool and cotton suits and a cost alternative to the silk suits of the time. Since then, Kiefer has provided the swim community with many innovative aquatic performance and safety products including the original Wave Eater racing lane, fully customizable starting blocks, lifeguard equipment and apparel, and a complete line of competitive swimsuits and swim goggles. Today, Mr. Kiefer continues to dedicate his life to helping swimmers of all ages and abilities.
###