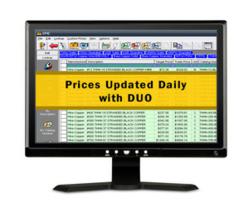 Our customers are bidding with the highest level of confidence when they add DUO's daily updates with the massive 1.8 million database of priced items in EPIC
Carlsbad, CA (PRWEB) October 21, 2011
Vision InfoSoft, an industry leader in electrical integrated software solutions, has a nomination for the Showstopper award program at this year's NECA Show in San Diego, California. The annual NECA Showstopper is the most prestigious recognition event in the electrical construction industry. Winners of the award have been presented by Electrical Contractor Magazine for the past 15+ years in the January issue of the magazine and on http://www.ecmag.com. Vision InfoSoft's 2011 Showstopper is the premiere pricing service EPIC™ DUO (Daily Update Option).
"Most electrical contractors wrestle with keeping their material prices updated while bidding. I strongly believe the most efficient material price update method is using EPIC DUO's daily commodity price updates. Our customers are bidding with the highest level of confidence when they add DUO's daily updates with the massive 1.8 million database of priced items in EPIC, said Derrick Delliquadri, Marketing Director of Vision InfoSoft."
EPIC DUO offers an electrical material pricing service that provides daily target and trade pricing updates via the Internet. EPIC Pricing has over 7,000 customers and each year, hundreds are adding EPIC DUO (Daily Update Option) to stay on top of the constant fluctuations in the commodity items.
EPIC DUO is also part of Vision InfoSoft's premier software suite which includes electrical estimating software with integrated on-screen takeoff. Vision InfoSoft is currently the only company in its industry to offer an electrical integrated software suite that includes software for electrical estimating, On-screen Takeoff®, and an in-house electrical pricing service.
Colleen Stempien, President of Vision InfoSoft states, "Electrical contractors looking for an electrical estimating software solution often ask us, 'What makes Vision different?' One of the key characteristics that makes us different is our tightly integrated, in-house electrical material pricing service, EPIC Pricing. No other estimating software company has an in-house electrical material data and pricing editorial staff that is currently updating over 250,000 items each month while also updating commodity prices for DUO every day."
About National Electrical Contractors Association's (NECA) Showstopper Awards Program
A Showstopper nominations are considered to be new products and services designed to help electrical contractors on the job. Each will be judged at the NECA Show is San Diego based on various factors and the winners will be announced in the January issue of Electrical Contractor Magazine and on http://www.ecmag.com. Vision's showstopper, EPIC DUO will be on display in the NECA New & Featured Product Room at the NECA show in Boston October 3-5, 2010. Learn more about NECA Showstoppers on the web.
About Vision InfoSoft Corporation
Privately owned and operated since 1993, Vision InfoSoft (Carlsbad, CA) has over 11,500 customer using their estimating, pricing, billing and web services. Vision InfoSoft was founded by a team of experts in the fields of electrical and plumbing construction, software development, and information services. Their charter calls for the development and marketing of high-quality, yet affordably priced, software and information services for the electrical and plumbing construction industry.
Learn more about Vision InfoSoft's products at VisionInfoSoft.com, read updated news at VisionInfoSoft.com/blog , become a fan of Vision InfoSoft on Facebook, and get updates via Twitter, twitter.com/VisionInfoSoft.
Contact: Derrick Delliquadri
Phone: 800-258-7752, ext. 521
E-mail: ddelliquadri(at)visioninfosoft(dot)com
###