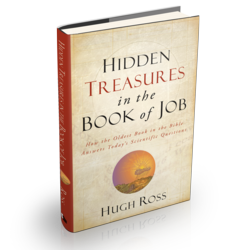 I have never read a book like this on Job
Glendora, CA (PRWEB) October 22, 2011
When people study the book of Job, they typically focus on the themes of suffering and God's providence. What few realize is that Job can also help us understand the relationship between faith and science. Hidden Treasures in the Book of Job, the latest book from astronomer Hugh Ross, examines the oldest book in the Bible from a modern scientific perspective. "I have never read a book like this on Job," states Pat Robertson as he introduces Dr. Ross for an interview segment on The 700 Club Wednesday, October 19, 2011.
Throughout the interview, Dr. Ross makes a clear case for the importance and relevance of a book like Hidden Treasures in the Book of Job. When Robertson asks the reason for writing a book about Job, Dr. Ross explains that Job contains more information about science and creation than any other book of the Bible. In fact, according to Dr. Ross, the book of Job deals with scientific discoveries that are happening right now. Some of these discoveries include cosmic darkness, global warming, and animal intelligence. When talking about animals, Dr. Ross points out that Job describes God creating "soulish" animals (birds and mammals) to serve and please human beings and to teach us about God.
In addition to "soulish" animals and their relationship to humans, Dr. Ross also discusses Job's significance as likely the oldest book in the Bible, its statements on cosmic darkness (dark energy, dark matter, etc.) and the expansion of the universe, and Job's descriptions of God's frequent and profound intervention in the universe and Earth's life.
For those who want to know more about how the Bible speaks to us today and are seeking to reconcile faith and science, Hidden Treasures in the Book of Job (ISBN: 978-0-8010-7210-9, $17.99, 240 pages, October 2011) provides stimulating insights and observations on the book of Job's ability to address both ancient and modern concerns. Dr. Ross, a respected astrophysicist, Christian speaker, apologist, and author of more than a dozen books, has provided another perceptive book that challenges evolutionary theory and shows how the claims of the Bible are more reasonable than many assume.
Hugh Ross (PhD, University of Toronto) is founder and president of Reasons To Believe (http://www.reasons.org). He is the author of many books, including The Fingerprint of God, The Creator and the Cosmos, More Than a Theory, and Why the Universe Is the Way It Is. An astronomer and pastor, Ross has addressed students and faculty on over 300 campuses in the United States and abroad on a wide variety of science-faith topics. From science conferences to churches to government labs, Ross presents powerful evidence for a purpose-filled universe. He lives in the Los Angeles area.
Contact:
To schedule an interview with Hugh Ross, contact Kristi Sandberg at ksandberg(at)reasons(dot)org or call (626) 335-1480 ext. 112.
###